It is a known fact - or, at any rate, one widely repeated on TV news shows that now resemble WhatsApp groups read out loud - that the Bharatiya Janata Party fights elections on the basis of development and of its forward-looking vision for India's future.
It is useful to note, therefore, as a corroboration of this fact, that the most important political issue in Gujarat at the moment is Jawaharlal Nehru's doubts about the reconstruction of the Somnath Temple in 1950. This is, of course, a vital development issue; opinions 70 years ago about temple construction determine the policies that will lead to sustainable job growth in Gujarat over the next few years.
Given its dominant position in Gujarat, and the inevitability of its victory in that development-oriented state, the BJP has taken the high-minded view of politics one associates with the natural party of government and asked exactly what religion Rahul Gandhi is, and why he apparently signed the register at the Somnath temple set aside for non-Hindus. This single-minded focus on development and lordly unconcern for the activities of the hapless Gandhi scion demonstrates that the BJP is quite unworried about the results of the forthcoming Gujarat polls. It would not, in fact, need to unleash its dirty tricks department - not that it has any such thing! - on the news that some minor party functionary named Shehzad Poonawalla is supposedly upset that the Gandhi Congress will likely elect someone surnamed Gandhi its president next month.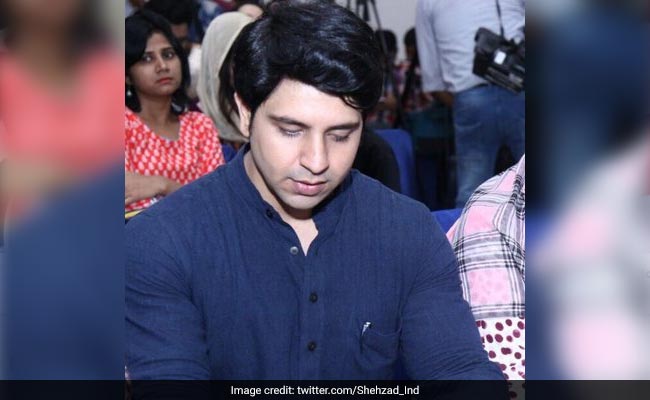 I'm sure the many unemployed young people of Gujarat, and those dealing with the state's poor record on human development, are overjoyed that the issues that matter most to them - namely, whether Rahul Gandhi is a sacred-thread-wearing Hindu - are being discussed in the public sphere. The BJP, with its tagline of
"sabka saath, sabka vikas"
, has correctly pointed to importance of the personal religious faith of a political leader and his physical posture when conducting religious ceremonies in determining whether
"sabka vikas"
is possible. And the Gandhi Congress, not to be left out in this race to the top of political discourse, has insisted that its leader is, indeed, a proud upper-caste Brahmin - because after all, without one of those at the helm, how is job growth and better maternal healthcare possible?
Those who do not believe in development - Naxalites and Macaulayite liberals, in other words - may, of course, be a little confused by the ubiquitous discussion of whether a man who has been photographed wearing the sacred thread and performing numerous religious rituals, who goes to temples, and who self-identifies as a
"Shiva bhakt"
, is in fact a Hindu. These anti-development forces, however, fail to understand Hinduism. It is important to remember that Hinduism is not a way of life or an ancient system of beliefs and traditions with space for multiple identities, but instead a little certificate signed by the Sarsanghchalak in Nagpur and countersigned by three prime-time news television anchors. In the absence of that certificate, no leader is capable of fighting corruption or of reviving small-scale industry in Gujarat. This is a well-understood economic fact - and in case you still have doubts, I'm sure that by next week no doubt several quotes by Nobel Prize-winning economists testifying its truth will arrive in your WhatsApp inbox. Other important issues of livelihood and good governance are also being raised by the BJP, including the question of whether the Gandhi Congress cheered the release of 9/11 mastermind Hafiz Saeed from prison in Pakistan, and what Rahul Gandhi may have said seven years ago about "Hindu terror".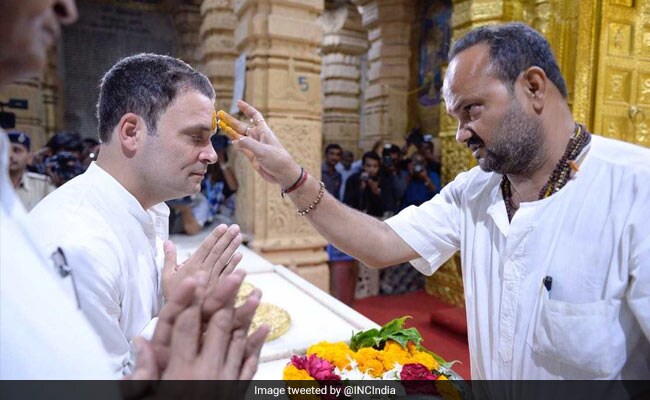 All fans of
vikas
will be overjoyed that, rather than playing the divisive identity politics associated with the discredited opposition, the ruling party and its acolytes on TV, Twitter and Facebook have kept the focus squarely on whether Rahul Gandhi is lying about his religion. When Narendra Modi confirmed his identity as the political avatar of Hindu nationalism by refusing to wear a skullcap in 2014, that was of course a determined rejection of identity politics - one that his BJP has continued to this day. When, in 2006, Rahul Gandhi declared before members of his party that the national flag was his religion, he was clearly laying himself open to questions about his personal faith and therefore his commitment to development and job growth. It is unfortunate that he failed to learn appropriate lessons from the Prime Minister, who told Parliament in 2015 that his government's only religion is "India first" and its only holy book the Constitution. The difference in approach between the two leaders is plain to even the meanest intelligence.
Gujarat's development aspirations, highlighted in this discussion of temples, sacred threads, and Pakistan, will no doubt result in a walkover for the BJP in the elections. Given the lack of drama in these state elections, we should instead focus intently on the real contest: for the post currently occupied by Rahul Gandhi's mother, also named Gandhi. The startling and shocking question that has been bravely raised: Is the contest rigged in favour of Rahul Gandhi? Much-needed political excitement is being provided, to a country starved by a single-minded focus on development, by the split in India's most prominent and influential political family: the Poonawallas. It is to be hoped that this election will be free and fair. If it is, I am sure that Rahul Gandhi is in for a fight in his campaign to lead the Gandhi Congress. Certainly in Gujarat, the home of development-focused politics, the electoral battle is practically over.
(Mihir Swarup Sharma is a fellow at the Observer Research Foundation.)
Disclaimer: The opinions expressed within this article are the personal opinions of the author. The facts and opinions appearing in the article do not reflect the views of NDTV and NDTV does not assume any responsibility or liability for the same.