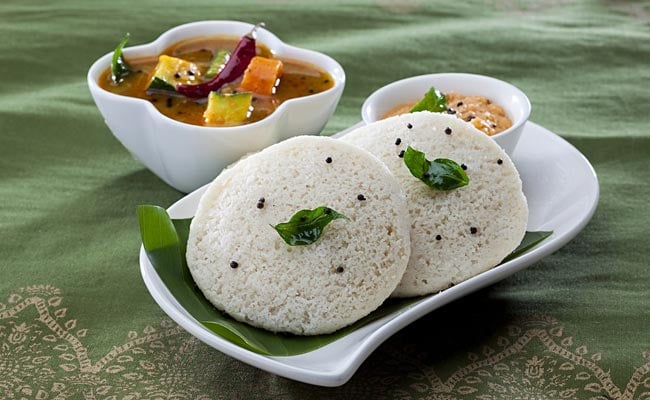 New Delhi:
For the last three years, March 30 has been celebrated as World Idli Day. The delicious south Indian steamed rice cake is often eaten for breakfast along with piping hot sambhar and a variety of tasty chutneys. And while some would say that every day should be World Idli Day (okay, it's us, we would say it), Twitterati were mostly surprised when the hashtag #WorldIdliDay started trending. In fact, it has been among the top three Twitter trends in India all day. World Idli Day for the win!
According to
The Daily Pioneer
, World Idli Day is the brainchild of Eniyavan, a popular idli-only caterer from Chennai.
The Hindu Business Line
reports that in 2015, he made a staggering 1,328 varieties of idlis to institute and commemorate this day. There was even a giant 44-kilogram idli that was cut by a top bureaucrat to seal the deal and declare March 30 as World Idli Day forevermore.
Twitterati were quick to declare their love for the humble idli, with many even sharing recommendations for where to get the best idlis in their cities (after all, sharing is caring). And because we absolutely love idlis, we even trawled through Twitter to find you the best tweets on World Idli Day.
Here are the top 15 tweets on World Idli Day:
World's best breakfast also has a day assigned to it :) #WorldIdliDay This certainly brings a smile on everyone's face. pic.twitter.com/mcewKAOROl

— Harpal Singh Sokhi (@harpalsokhi) March 30, 2018
Wow... we have days to celebrate our Food as well Happie #WorldIdliDay Folks Though I celebrate and Cherish my Food everyday. Yummmmm Idli's it's your day today. to our Food and Indian Cuisine #Vegetarian#Idli#SouthIndianFood#FryYay#FridayFeeling#FoodFridaypic.twitter.com/Yn974CcWue

— Soundarya Sharma (@soundarya_20) March 30, 2018
Wow! Shame on me for being a Malayalee and not knowing about the #WorldIdliDay To atone for this I shall have idlis for lunch today. Let me check on #WorldSambarDay and #WorldDosaDay as well...

— Manoj Nair (@manojnairtweets) March 30, 2018
Seeing all these photos of Idlis on Twitter, I am ready for another breakfast. Shame on me that being a South Indian myself I didn't know today is #worldidliday !! I just had kachoris!

— ASISH (@asishkumar208) March 30, 2018
What a coincidence to find this on my breakfast table on #WorldIdliDaypic.twitter.com/XVTLo8sTTd

— Pankaj Advani (@PankajAdvani247)

Today is #WorldIdliDay in honour of my favourite daily breakfast food! Began my day in Thiruvananthapuram as usual with idlis. Always marvel at the ancient geniuses who invented this greatest of all foods.... pic.twitter.com/ciUTBd9CET

— Shashi Tharoor (@ShashiTharoor) March 30, 2018
Today is #worldidliday.
*Some say that it was the Saurashtrian textile merchants who 1st introduced idli or Iddada...to S India during 10th century AD.
*Culinary historian KT Achayya claims that idli had its origins in Indonesia, where steamed food was quite popular... pic.twitter.com/unp38dkzLZ

— Mohandas Menon (@mohanstatsman) March 30, 2018
Today is #WorldIdliDay .
The dish is first mentioned in a 10th century Kannada text but could actually have been invented much earlier by Indonesian chefs under the Chola empire. pic.twitter.com/hyOsDdG2hu

— Geeta sharma (@BeingGeetaS) March 30, 2018
#WorldIdliDay , At our home in #Coimbtore Tamil Nadu , idili is served in traditional with three types of chutnies, sambar & chutnies on a fresh Banana leaf , Really miss it !! pic.twitter.com/XKPM2VZWEU

— Sheikh Khalid Jehangir (@sheikhkhalid) March 30, 2018
World Idli Day - 30th March
Every day is a festival in some part of the world or some day to celebrate our love for something. And when it comes to #Food, our #Love increases in so many levels that its often hard to define. Hyderabadis, let's celebrate #WorldIdliDay in #Hyderabadpic.twitter.com/AGldLAeiYV

— Hi Hyderabad (@HiHyderabad) March 30, 2018
There is always room for an extra idli. Idli is nice. Idli is delectable.
Let's eat idli and be at peace. #WorldIdliDay

— Anushka Pandey (@anushkaapandey) March 30, 2018
Got to know from @smitaprakash that today is #WorldIdliday! Here goes my favorite Idli from old Bangalore's iconic Brahmins Cafe. A little thread about this anytime-comfort food. pic.twitter.com/BLtyz7YEmO

— (@veejaysai) March 30, 2018
#WorldIdliDay Raghavendra Stores, Malleshwaram. Will do anything to get my hands on these right now! pic.twitter.com/SwTFyZ5qD2

— Sindhu Chandra (@sindhukc) March 30, 2018
If you haven't had the masala idli at Chidambaram's in Khanna Market in Delhi, you haven't lived. #WorldIdliDaypic.twitter.com/lLgSXxd66A

— Raheel Khursheed (@Raheelk) March 30, 2018
In conclusion, we'd like to reiterate that in our humble opinion... every day should be World Idli Day!
Every day should be #WorldIdliDay

— Sundar Raman (@ramansundar) March 30, 2018
Love idlis? Share your favourite place to eat idlis in your city in the comments section below!Click for more
trending news