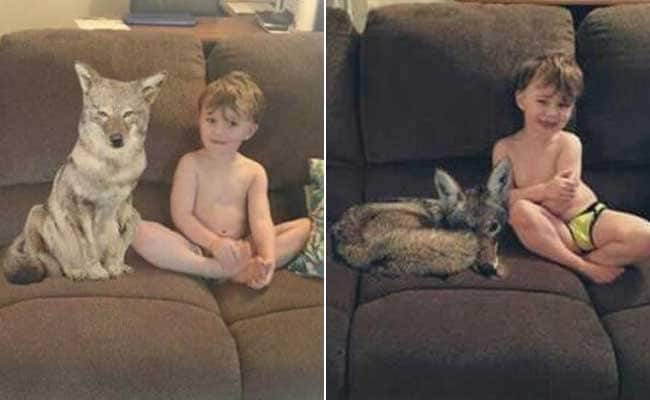 Highlights
Kayla Eby texted her husband about a stray dog she brought home
Her husband later realized that it wasn't a dog but a wild coyote
The hilarious prank has gone viral all over social media
When preschool teacher Kayla Eby from Oregon, USA, texted her husband about the stray dog she brought home, it didn't seem like anything out of the extraordinary. Until, that is, her husband realized that what his wife thought was a little puppy was actually a wild coyote. The hilarious conversation that followed has gone insanely viral with over 90,000 reactions and more than 4.2 lakh shares on Facebook since being posted on December 2.
The post, with some 12 pictures of the text conversation, begins with Ms Eby breaking the news of their new pet to her husband Justin Bogh. "I found this cute little dog outside... he doesn't have tags or anything. He's kinda scared. What should I do?" she wrote to him with a picture of the 'dog' attached. "I'm going to bring him inside. He seems cold. Poor pup," she added.
"I swear to god if you bring another random animal into the goddamn house," Mr Bogh wrote back, only to realise seconds later that it wasn't actually a dog she had brought home. "That's not a dog," he wrote to her, trying also to call her to explain it was a wild coyote she had sitting next to their son.
Before you freak out, just like Mr Bogh did, here's the little twist to this tale which makes it so hilarious. The whole thing was just a prank and an extremely well-executed one at that. It'll be more fun to read the conversation knowing this little piece of information.
"When you have a crazy hubby and friends with Photoshop," Ms Eby wrote on Facebook with her post. You'll be laughing really hard with this one. Take a look below.
(Viewer discretion advised. Some contents of this post may be unsuitable for children.)