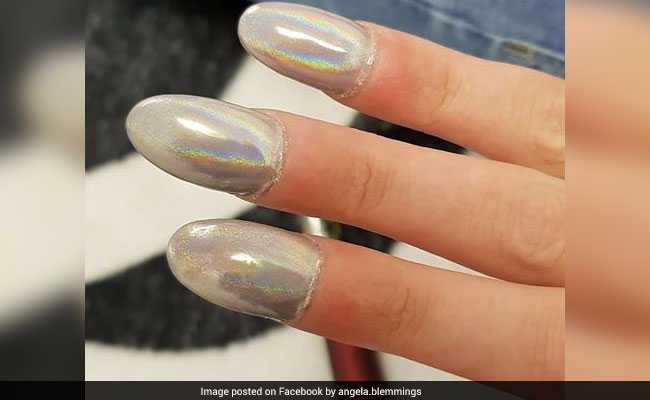 If you spend enough time online, chances are you've seen some incredible nail art videos or photos that keep circulating on social media - seriously, they are hard to miss sometimes. However, one woman's nail art picture is going viral for all the wrong reasons. Let this be a cautionary tale for anyone looking to get a nice manicure - always find a well known place to get your nails done. You could land up with a disastrous result like this woman did.
A beauty salon owner has shared a picture of her client's unfortunate nail job. Her photo, since being shared on July 1, has collected over 14,000 reactions and more than 13,000 shares.
"This is what happened to my client when she went into a different local nail bar without doing her research. I couldn't believe my eyes so I had to get a picture," says Facebook user Angela Blemmings. What's worse is that her client, Emma Jones, paid 35 pounds (Rs 3,000 approximately) for it. Ouch!
Oops! That's not good, is it?
According to
Mamamia
, Emma Jones had asked for 'round' nails and this was the result. "I was completely distracted at the salon because we were talking about my experiences in Turkey as I have just come back from a holiday so I headed out the salon and got in my car and thought what on earth has he done!" she told
Mamamia
. "I was mortified so I headed to my cousin's mum's salon to have my eyebrows done and she was mortified as she is a nail technician herself."
Meanwhile, people can't help comment on the picture of the disastrous manicure.
"Oh my actual god, I can't believe they even did that," says one Facebook user. "OMG they are bad," says another.
Don't worry though, Ms Blemmings fixed Ms Jones' nails and posted a picture to show the final result.
Click for more
trending news