A Japanese businessmen didn't get the warm reception he would have hoped for when he reached 10 Downing Street for a meeting with UK Prime Minister Theresa May. The frosty welcome was not meted out by Theresa May or any of her staff but a certain feline employee of Number 10.
Kazuo Okamoto, CEO of Mitsubishi Heavy Industries Europe, was just about to enter 10D when he spotted Larry, UK Cabinet Office's Chief Mouser, casually chilling outside. The Japanese executive turned around to give Larry a friendly pat but had to settle for just a wave as Larry darted off to avoid Mr Okamoto. Cold!
Larry snubbed the Mitsubishi boss in the presence of photographers and journalists leaving the executive no option but to turn around and go for his meeting.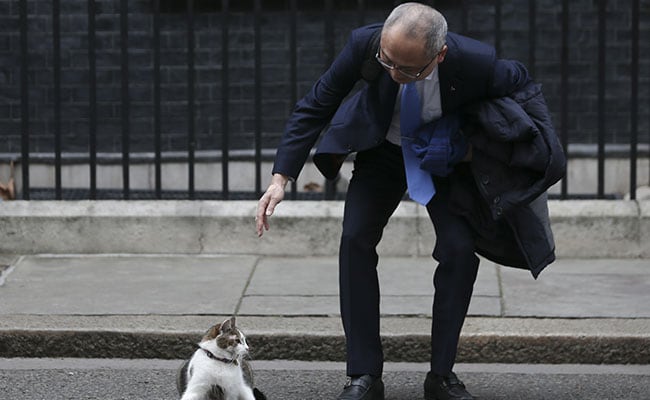 Kazuo Okamoto was at Ten Downing for a round-table for Japanese investors hosted by British Prime Minister Theresa May on February 8. He was the only Japanese executive who approached Larry but clearly the Chief Mouser didn't give two hoots.
Aware of having risked a diplomatic incident, Larry later tweeted an apology from his unverified Twitter account.
I may have cost the British economy a couple of billion. Sorry about that. https://t.co/6mbc26VsE1

— Larry the Cat (@Number10cat) February 8, 2018
The 11-year-old tabby was hired in 2011 to wage a war on rodents infesting London's most high-profile address. The feline occupant of Ten Downing has often stolen the focus from the human occupants of the residence. His general disliking for men has been publicly known. But in an exception, Larry was friendly with former US President Barack Obama, revealed ex British Prime Minister David Cameron.
Click for more
trending news