Business schools, please take note. Your new course material for marketing lessons could well come from Bollywood. The new bevy of Bollywood stars are featuring in campaigns that are probably leaving marketing professionals looking on enviously.
From turning public failings into good publicity to creating a traffic jam on social media, Bollywood's spin doctors appear to have several cool marketing tricks up their sleeves.
We've listed some of the coolest ones below.
1. #Win: Ranbir Kapoor's Social Media Tamasha
Unless you've been living under a rock, you've seen Deepika Padukone's video in which she has a good laugh at
Tamasha
co-star Ranbir Kapoor's social media knowledge, or the complete lack of it. In spite of having a family feted for its digital presence - dad Rishi Kapoor frequents headlines with his politically incorrect tweets, mother Neetu documents her life on Instagram and niece Samara is a Dubsmash star - Ranbir remains blissfully ignorant of the joys of social media. So the video showing him fumbling through an announcement of
Tamasha
's social media pages made for quite a hilarious watch.
And because Bollywood believes there's no such thing as bad press, director Imtiaz Ali and his social media noob decided to cash in on the gaffe.
Now there's an all-new video in which the
Highway
director (pretend) tells off his former
Rockstar
for being Twitter and Facebook-deficient. The publicity for the movie now rests only on the social media savvy Deepika's shoulders, he says.
Poor Ranbir tries to defend himself by saying "
yeh main hoon hi nahi... yeh koi aur hai.
" But he does make amends at the end.
Tamasha URLs

"This is not real...its not me", says Ranbir Kapoor. Watch more #Tamasha unfold!#SajidNadiadwala #ImtiazAli Nadiadwala Grandson Entertainment Pvt. Ltd. UTV Motion Pictures

Posted by Tamasha on Tuesday, 8 September 2015
#Fail for Ranbir but #EpicWin for (the)
Tamasha
2. When Fan of Shah Rukh Scribbled Graffiti on Mannat's Walls
SRK seemed particularly peeved when he noticed colourful graffiti on the walls of his's Mumbai mansion Mannat. On Twitter, he denounced the scribbler who had signed himself 'Gaurav':
https://t.co/IsKA3JXGwN U can't leave ur house for a day without sum one messing with it!! Shocked!!!

— Shah Rukh Khan (@iamsrk) July 8, 2015
The message on walls read "love you SRK" and "c u 15th":
Mannat #rightnowpic.twitter.com/11UxO2RdS3

— SRK Universe (@SRKUniverse) July 8, 2015
Only the terminally brave or foolish would mess with a superstar, tight? SRK's annoyance attracted a lot of attention. And that apparently was the whole point.
Turns out the whole thing was a promotional antic for Shah Rukh's upcoming film
Fan
. King Khan's character in the film is called Gaurav, who is
duniya ke sabse bade superstar ka sabse bada Fan
.
"This was a unique promotional idea for the film, because sometimes this is how a fan reacts. Fans of celebrities do some crazy things, and since Shah Rukh plays the role of a superstar's fan named Gaurav in the movie, this was just to give a glimpse of how crazy a fan can be," a source close to the film's unit told news agency IANS.
Pretty neat, right?
3. When it Took Three Khans to Reveal the First Look of Bajrangi Bhaijaan
Parampara, pratishtha
and
anushasan
may be the
teen stambh
for
Mohabbatein's gurukul
, but for Bollywood, its
teen stambh
are its three favourite Khans - Shah Rukh, Salman and Aamir. When this troika join forces, the result is Internet-breaking.
Twitter was hit with the triple Khan whammy when the first look of Salman's new film
Bajrangi Bhaijaan
was revealed in May - first by SRK, then by Aamir, and lastly by the Bhaijaan in question.
I believe Being a brother is bigger than being a Hero. 'Bhaijaan' coming Eid 2015. How do u like the first look? pic.twitter.com/r1OZYLCVhX

— Shah Rukh Khan (@iamsrk) May 26, 2015
Coming soon... pic.twitter.com/3GJqHv6drK

— Aamir Khan (@aamir_khan) May 26, 2015
All three Khans, best friends and together - a PR dream. Could better publicity be possible? We rest our case.
4. Tanu Wed Manu and They Lived Happily Ever After? Not Quite
Before
Banno's swagger
swept movie-goers off their feet, it was Tanuja Trivedi and Manu Sharma's running commentary on
shaadi ke
side-effects that made headlines... on social media mostly.
A Twitter handle for
Tanu Weds Manu Returns
documented the newlywed Tanu and Manu's activities - a prelude to their different perspectives of life shown in the movie to come.
Before heading to London, here's what Tanu shared on her profile! ;) @ErosNowpic.twitter.com/taQ17gOn8z

— Tanu Weds Manu 2 (@TWMReturns) March 25, 2015
Manu posted this right before leaving for London with Tanu! :) @TWMReturnspic.twitter.com/1A9Ii0XMqy

— Tanu Weds Manu 2 (@TWMReturns) March 25, 2015
Happy honeymoon in Syria? Only for Tanu clearly.
Only Tanu would react this way in such a situation :P @TWMReturnspic.twitter.com/A2PJ57dBr7

— Tanu Weds Manu 2 (@TWMReturns) March 27, 2015
And this is how Manu reacted to the exact same situation... pic.twitter.com/sjh9d8BWrU

— Tanu Weds Manu 2 (@TWMReturns) March 28, 2015
Social media was, of course, all a-Twitter.
5. Aamir Khan, Kicking Up a Storm, One Poster at a Time
Marketing genius Aamir caused a stir last year with the controversial first look of
PK
. It showed the star almost in the buff, his modesty saved by a strategically placed transistor - and all hell broke loose. Law suits were filed, pleas to ban the film were put forth only to be quashed by the Supreme Court, later.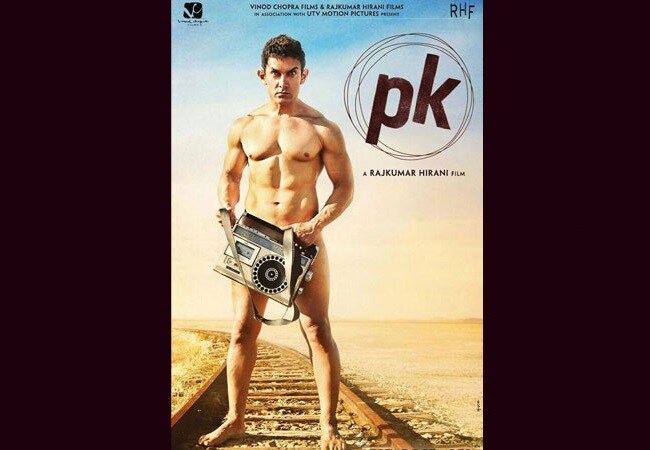 For the next poster, the team also teased the possibility of no transistor at all, creating even more suspense.
Aamir kept his clothes on for the next two but the teasers delivered on their promise of excellent publicity. So genius, much bow.
6. When Alia Bhatt Announced Her Engagement
"I'm getting engageddddddd !!!" Alia Bhatt tweeted in February 2014. Turns out, it was only for reel - in aid of her new movie
2 States
with Arjun Kapoor.
The invite read: As esteemed members of the family, you are invited to the engagement ceremony (or the 2 States promo launch) between Krish Malhotra (Arjun Kapoor) & Ananya Swaminathan (Alia Bhatt)
I'm getting engageddddddd !!! ;) pic.twitter.com/Kwa0RHVlyq

— SHAANDAAR Alia (@aliaa08) February 26, 2014
Shaadi Mubarak
. Or rather, promotion
mubarak
.
7. Hrithik's Bang Bang Dares for Bollywood
Hrithik used his Twitter account to co-opt several of his famous friends into promoting his film
Bang Bang
, co-starring Katrina Kaif.
One after the other, the star issued a series of 'dares' in tweets.
For Shah Rukh Khan: Post a picture of you doing your favourite ab exercise - accomplished
For Aamir Khan: Put down the transistor - accomplished
For Priyanka Chopra: Handstand with a push up - accomplished. In heels, no less
For Arjun Kapoor: Pick and copy any iconic style from cinema - accomplished
For Farhan Akhtar: Run or cycle down Bandstand in your skydiving suit - accomplished
Then he challenged Ranveer Singh: Get out of your car and pose on the middle of any main street of Mumbai for your fans
Ranveer Singh, never faint of heart, finished his dare like a boss, taking it to a whole new level by dressing up as Hrithik's superhero character Krrish and dancing to the Hrithik hit
Main Aisa Kyu Hoon
in the middle of a busy street.
My #bangbangdare ! Just for you @iHrithik :)) http://t.co/mmXwKP7l05

— Ranveer Singh (@RanveerOfficial) September 25, 2014
Roping in enthusiastic stars to help promote your movie - genius move, only.
Follow NDTV for latest election news and live coverage of assembly elections 2019 in Maharashtra and Haryana.
Subscribe to our YouTube channel, like us on Facebook or follow us on Twitter and Instagram for latest news and live news updates.