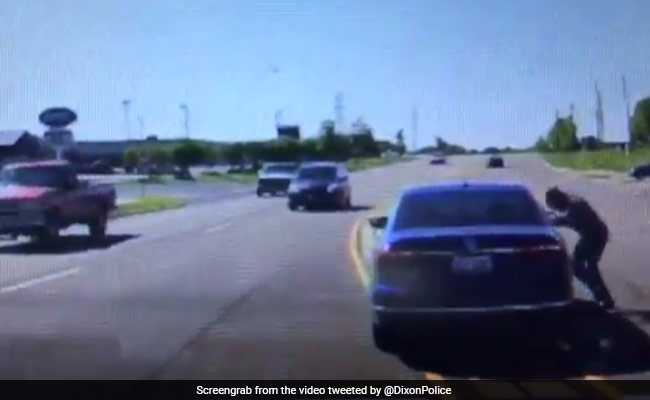 Not all superheroes wear capes. Some simply turn up at the right place and the right time to do something extraordinary. Just like Dixon, Illinois, resident Randy Tompkins, who jumped into a moving car to help its driver. Dramatic dashboard camera footage shows Mr Tompkins stopping his car close to a traffic intersection and jumping into the other car through its window to halt it. According to a statement by Dixon Police on Twitter, the driver of the car was having a seizure and Mr Tompkins' quick-thinking helped control the situation.
The video posted by Dixon Police on June 3 shows a blue car driving in an erratic manner after crossing a traffic intersection. The car had disobeyed traffic rules and almost bumped into the other vehicles, so a police car was tailing it, says the report posted by Dixon Police.
At some point, the car began moving towards oncoming traffic and that's when Mr Tompkins noticed the driver. He realised something was wrong so he immediately stepped out of his car and jumped into the other to stop it.
(2/2) Dash cam video of the incident: pic.twitter.com/KpS1RDaZ88

- Dixon Police (@DixonPolice) June 3, 2017
Here's the statement posted by Dixon Police:
(1/2) More details on the incident in the 1300 blk. of N. Galena Ave. this afternoon: pic.twitter.com/hpJ19seTUF

- Dixon Police (@DixonPolice) June 3, 2017
Twitter has hailed by Mr Tompkins a hero after the incident.
"That truck driver is a true hero," says one Twitter user. "Very nice of him to help another in their time of need," says another.
Mr Tompkins also shared a post about the incident.
Even on Facebook, people cannot stop praising Mr Tompkins for his actions.
"You took heroic measures for a complete stranger, while risking your own life in all that traffic. People like you make this world a better place," says one Facebook user. "Thank you, Randy, for saving the man's life. You're a real hero. God bless you," says another.Click for more
trending news