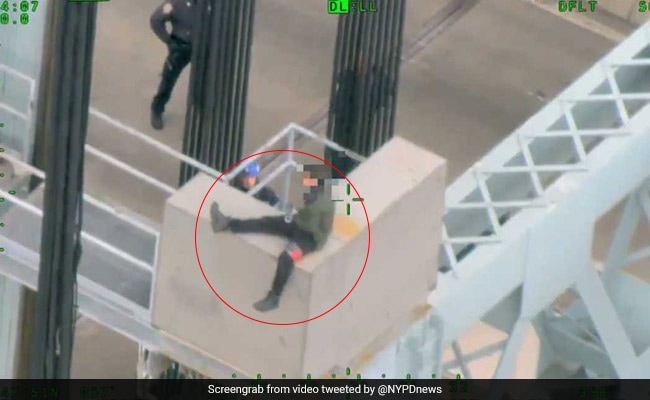 Incredible aerial footage has captured the exact moment a police officer saved a suicidal man. New York City detective Claudio Sanchez is being hailed a hero after rescuing a man threatening to jump from top of the nearly 500-foot Robert F. Kennedy Bridge on Sunday afternoon.
According to
NBC News
, when a man scaled a tower above the whir of the RFK Bridge, in an apparent attempt to take his own life, Mr Sanchez was one of the of Emergency Services Unit officers called to make a rescue.
While NYPD harbour patrol waited 100 feet below in the East River, a helicopter kept a watch on the unnamed 31-year-old man from above. He eventually sat down on the ledge, tied a rope around his neck and lost consciousness.
It was then that Mr Sanchez raced to pull the man from off the ledge and into a harness.
A video of the rescue captured the incredible moment. Watch it below:
WATCH: Fantastic job by @NYPDSpecialops for using their training in crisis communication and team tactics to save man who was threatening to jump from the RFK Bridge in #Manhattan#NYPDprotecting.
If you're in a crisis reach out to @CrisisTextLine@800273TALK. pic.twitter.com/3DE6gttjSc

- NYPD NEWS (@NYPDnews) March 26, 2018
After he was brought down from the bridge, members of the emergency services performed CPR on him before he was taken to the Harlem Hospital. He is now in a serious but stable condition.
Last year, a firefighter performed a similar
rescue in China
when he saved a woman from jumping off the 15th floor of a building.
Click for more
trending news