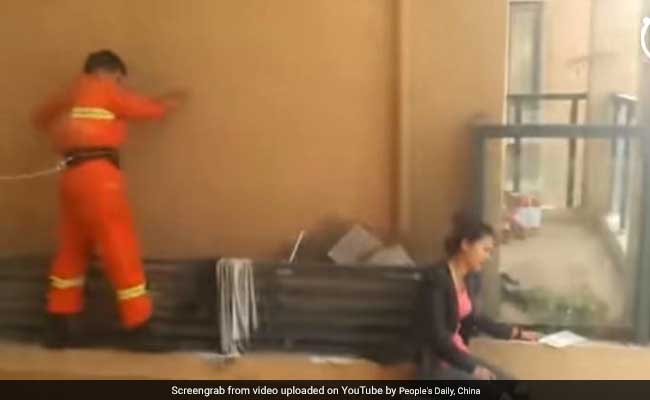 New Delhi:
A dramatic rescue, executed 150 feet above ground. The moment a firefighter in China risked his life to save a suicidal woman from has been caught on camera. The woman, who
reportedly
had a fight with her husband, climbed and sat on a tiny beam outside her 15th floor apartment. In a bid to prevent her from jumping off, the fireman climbed out and walked on a narrow ledge to save her life, while being tied to a safety harness.
The video shows the fireman tip-toeing across the ledge, barely a few inches wide, to avoid being noticed by the woman. It takes the fireman just under a minute to reach the visibly disturbed woman. Before she can react, the fireman quickly grabs the woman and another colleague appears from the woman's balcony to pull her to safety. The woman resists and by now five men are struggling to pull her up. The fireman who climbed out to rescue her is now standing precariously on the edge of the beam. After few seconds of the tussle, the woman is safely pulled up to her balcony, thanks to the fearless man and fellow firemen.
Watch the high drama rescue here
The jaw-dropping incident happened on Friday in a residential building in Anhui province in East China. Firefighters put an air mattress on the ground before they began the rescue operation.
Click for
more trending stories