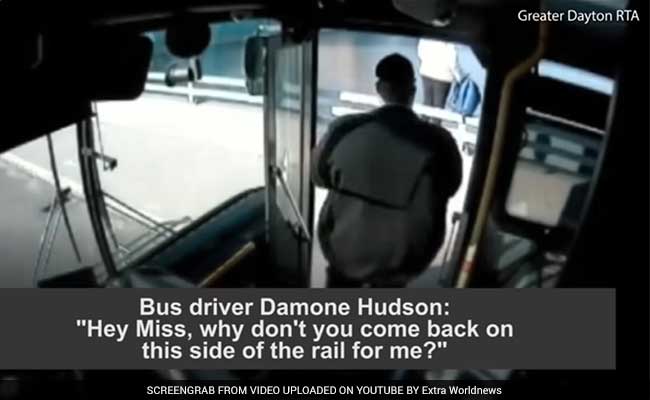 Highlights
Damone Hudson is a bus driver in Dayton, Ohio
He spotted a woman on Main Street Bridge, ready to jump
Mr Hudson immediately stopped and spoke to the woman
CCTV cameras on a bus in Dayton, Ohio, USA, have captured the incredible moment a bus driver pulled over when he saw a woman standing on a bridge, prepared to jump. A woman was standing on the wrong side of the safety rail, looking down at the Great Miami River, when Damone Hudson, the driver, spotted her. Footage shot shows Mr Hudson, 24, pulling over on Main Street Bridge and getting out of his seat to go out and talk to the woman.
"Hey Miss, why don't you come back on the other side of the rail?" Mr Hudson can be heard saying.
The clip, which is only 32 seconds long, does not show what happens after that. However, according to
Fox 45
, police arrived at the scene soon after and the woman was reported to be safe and unharmed.
Speaking to
Fox 45
, Mr Hudson remembered, "The first thing I could think to say to her was, 'Ma'am, you look like you're having a bad day. Can I give you a hug?"
People have praised Mr Hudson for his presence of mind and kindness. ""Yeah, you gotta stop. I'd stop 100 times" he was quoted as saying to
Fox 45
.
Greater Dayton RTA
too put out a post saying that they are proud of Mr Hudson. "We're so proud of our driver Damone Hudson" says the post.
You can watch the incredible video below:
Watch do you think of the praiseworthy moment? Let us know in the comments section below.