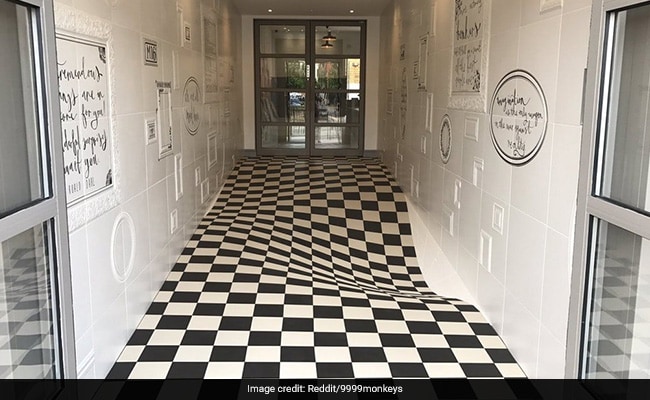 Internet loves a good optical illusion and the current one tickling their fancy is this chequered floor that looks straight out of Alice in Wonderland.
Designed by a UK-based company, the tiles line the entrance of the company's store. They make the floor appear curved when it's actually completely flat and its psychedelic design spooked many on
Reddit
and Twitter.
"I wonder how hard it is to overcome the visual cue and run over that with your eyes open?" wrote a Redditor.
Another wrote, "I feel like this will cause more falls than it prevents".
After its new found internet fame, the store shared a video to amuse netizens. Caution: It may make you wobbly.
@DrGBuckingham#tiles#illusion#Manchester#lovetilespic.twitter.com/kvopveYXe3

— Casa Ceramica (@casaceramica) October 10, 2017
However, the illusion only works from one direction. Here's what it looks like when you're leaving the store.
Correct, here is the view back the other way @casaceramicapic.twitter.com/c6LaVIw1sW

— Duncan Cook (@DuncanCook10) September 22, 2017
And if the floor is too much to handle for you, you can always use the back door.
Last month, a flat carpet which appeared to show holes all over its surface had gone viral.
Whoever designed this floor is evil. THATS A FLAT CARPET. pic.twitter.com/RGENHZJN81

— Muselk (@MrMuselk) September 21, 2017
Click for more
trending news