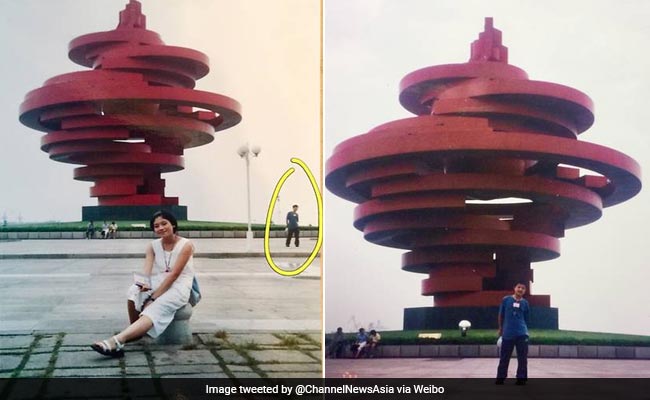 This incredible coincidence sounds like it could be something out of the movies. And yet, it's real life, not reel life. A
Chinese man claims he photobombed his future wife
- 11 years before they met. The unbelievable coincidence has taken the Internet in China by storm and a number of
local news outlets
have reported on the couple's astonishing story as well.
Photos posted on China's Twitter-like social media platform Weibo show two people posing for a photo at the exact same spot, in front of a towering red sculpture in China's beachside city of Qingdao.
Turns out Ms Xue and her husband Mr Ye were standing just a few meters apart from each other in July 2000 - 11 years before they met in a completely different city - and didn't even know it.
They made the startling discovery recently while looking through Ms Xue's childhood photos.
"When I saw the photo I was taken by surprise and I got goosebumps all over my body," Mr Ye tells Sina News.
But what makes their story even stranger is that Mr Ye wasn't even supposed to be in Qingdao. Last minute, he had taken his mother's place with a tour group as she had fallen ill.
Mr Ye managed to find his own photo and shared the two pictures on social media where they soon went viral.
Married couple in China discover they appeared in same photograph as teenagers: Report https://t.co/n0OLNxKbUipic.twitter.com/vrSlECRRmP

— Channel NewsAsia (@ChannelNewsAsia) March 11, 2018
The story seems to have melted the hearts of many netizens:
"Lovers don't finally meet somewhere. They're in each other all along" -Rumi

— Tania (@Tania_Jen) March 14, 2018
omg... it was meant to be

— Kathy (@kathyha_) March 14, 2018
Never really believed in stuff like this but tbh I hope it works out this way in the future for me

— Alln (@SonOhGod) March 14, 2018
Me looking through my pictures for my future wife: pic.twitter.com/zedAWucdNi

— 6'7 Igwe (@SheWantsTheVic) March 13, 2018
Last year, a couple from Kosovo discovered - thanks to an old photo - that they had been
on the same beach at the same time ten years before they got engaged
.
Similarly, in 2014, a couple leafing through old family albums was stunned to find that they had been
building sand castles on the same beach - 11 years before they actually met
.
Getting those warm, fuzzy feelings yet? Click for more
trending news