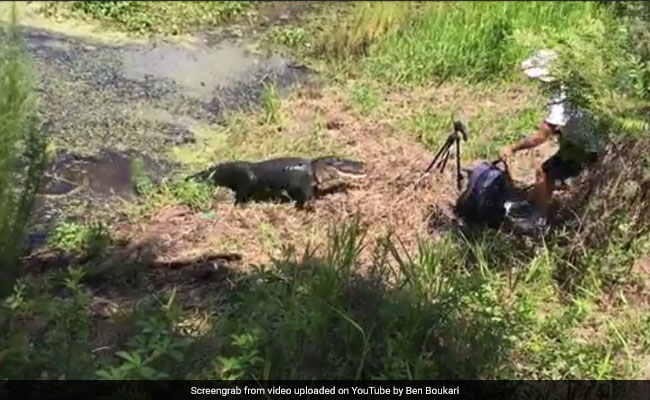 Startling footage shows an alligator chasing off a man who got too close for comfort while trying to take photographs in Florida. Ben Boukari shared two videos on YouTube and Facebook showing the alligator lunging towards a man at the Paynes Prairie Preserve State Park in Gainesville, Florida
The first video begins with the alligator charging towards the man, who attempts to pick up his bag and tripod before fleeing. He drops both and quickly backs into the bushes. The gator snaps its jaws around the tripod left behind.
"Is she going to drag your bag into the water?" a woman can be heard asking. "Don't give her any ideas," replies the man.
Undeterred, he whips out his smartphone and continues to capture images of the massive reptile.
It returns to the water, at least for now. That's when the man decides to go collect his abandoned belongings. "It's an expensive camera," he can be heard saying.
Once again, the gator emerges out of the water, as if warning him to stay away.
In the second video, despite two close calls, the man continues to film the alligator on his smart phone - this time, from a different angle. For a third time, the angry alligator snaps its jaws at him. The man finally backs off. "Time to get the bag," he can be heard saying.
"Angry mama gator defends babies at La Chua Trail at Paynes Prairie in Gainesville Florida," writes Mr Boukari on YouTube. "Guy is way too close!"
"The gators normally layout in the sun and are very calm. This guy got off of the trail and decided to try and get a closer look a mama gator and the babies," he adds. "Everyone heard in the video are in a safe location on a boardwalk above the gator."
Both videos have people angry at the man's seemingly callous behaviour. "That is her home. He has no right to disturb her," writes one person on
Facebook
. "You MUST respect animals. You are intruding...This kind of interaction will ruin it for everyone else," writes another.Click for more
trending news