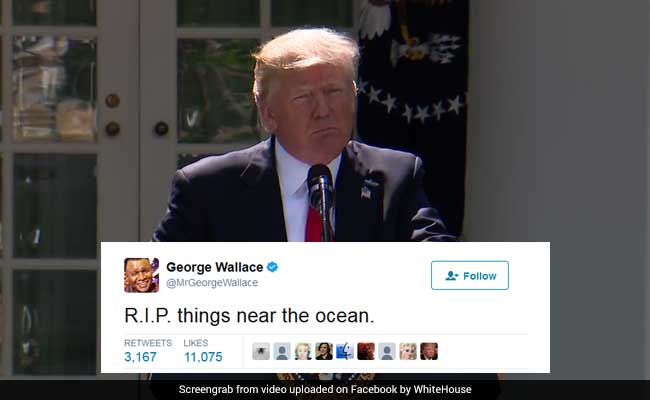 At a time when global warming has been acknowledged as a real threat, US President Donald Trump announced yesterday that he would be
withdrawing the United States
from the landmark Paris climate agreement - a decision that seems to have disappointed not just environmentalists but also several
world leaders
and businessmen. The internet, predictably, has been buzzing since the announcement, with many criticizing the decision as reckless and disgraceful. We rounded up some of the most biting tweets that take a dig at Mr Trump's decision to pull out of the Paris climate deal. Read on:
Blow a kiss goodbye to nature. #ParisAgreementpic.twitter.com/wsqlYD9U5x

- Meenal Mistry (@MeenalMistry) June 1, 2017
Today carbon dioxide truly became president.

- Josh Gondelman (@joshgondelman) June 1, 2017
Millennials had an important question
are they still gonna call us snowflakes when those don't exist anymore?

- farah brook (@farahbrook) June 1, 2017
Twitter was very vocally critical of the decision
R.I.P. things near the ocean.

- George Wallace (@MrGeorgeWallace) June 1, 2017
"One nation, under water, with liberty and justice for coal."

- Jessie (@NicCageMatch) June 1, 2017
Donald Trump, Ivanka Trump, Jared Kushner, Rick Perry & Steve Bannon walk into a bar & the bar is the earth & it overheats & we all die.

- Olivia Nuzzi (@Olivianuzzi) June 1, 2017
Meanwhile, business tycoons like Disney's CEO Robert Iger and Tesla's Elon Musk have pulled out of Mr Trump's business advisory councils to protest the decision.
As a matter of principle, I've resigned from the President's Council over the #ParisAgreement withdrawal.

- Robert Iger (@RobertIger) June 1, 2017
Am departing presidential councils. Climate change is real. Leaving Paris is not good for America or the world.

- Elon Musk (@elonmusk) June 1, 2017
Click for more
trending news