Highlights
Norwegian broadcaster NRK's website has a tech section, NRKbeta
To comment on NRKbeta's articles, users have to pass a short quiz
The idea behind it is to reduce Internet trolls
The Internet is a wonderful place. It's a place of constructive criticism, where ideas flourish and healthy discussions take place. Unfortunately, some sections of the Internet aren't quite so, well, friendly. We're talking about the comments section on various websites, where trolling is often rampant. There's a reason, after all, that many news websites have done away with the comments section altogether. To many writers, then, it will come as a pleasant surprise that a Norwegian website has come up with a simple solution to stop Internet trolls: before a user can comment, they will have to prove that they have actually read the article by answering three simple questions on it.
Norwegian broadcaster NRK's website has a tech section, NRKbeta, which is trying this experiment. Before a potential commenter can actually use the comments section, they will have to answer three multiple-choice style questions.
Sample this: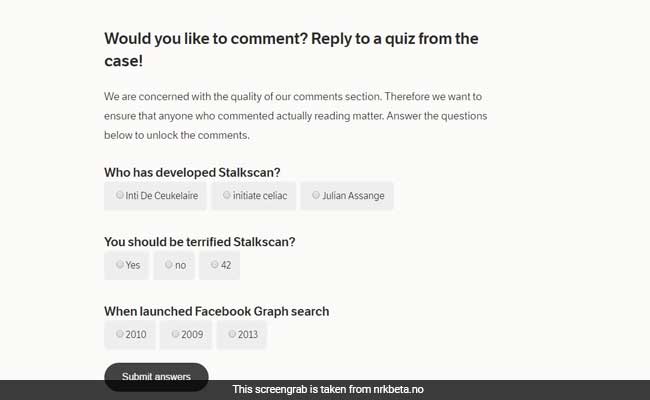 Roughly translated, this test asks the readers if they should be terrified of Stalkscan, when Facebook launched graph search and who developed Stalkscan.
The quiz section is, for now, only available for the technology section of NRK. The idea behind it is to ensure that the comments section remains a place for healthy and engaging discussions, and not ranting.
"If you spend 15 seconds on it, those are maybe 15 seconds that take the edge off the rant mode when people are commenting," said NRKbeta editor Marius Arnesen in an interview to Nieman Lab.
What do you think of this move? Let us know using our comments sections below.