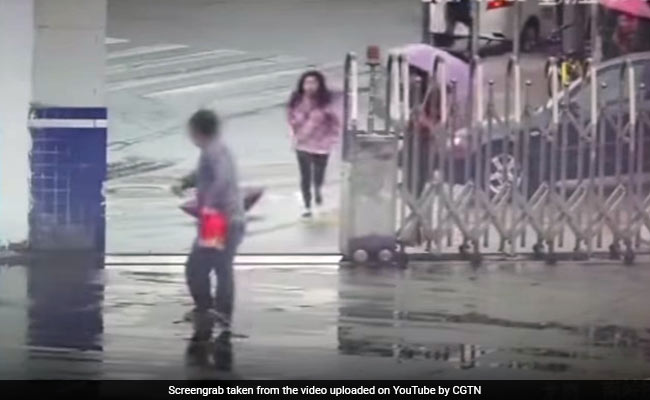 New Delhi:
A life of crime doesn't pay and it took less than 30 seconds for a thief in China to learn that lesson. Surveillance footage has emerged showing a man robbing a woman waiting to cross the road in the city of Shenzhen, in China's Guangdong province. The not-so-smart thief grabs the woman's mobile phone, runs through traffic and straight into a police station. The brave woman chases after the thief, stumbles, but manages to get up and continue chasing him. Upon reaching the police station, she shouts for help. A police office promptly rushes out and arrests the man.
Watch how the comical situation unfolded here:
According to
People's Daily China
, the man was arrested "10 seconds after the crime." He apparently did not know the area particularly well and was unaware he was running into a police station.
"At one point, he reached a dead end. He ran into a courtyard not knowing it was a police station. He was arrested right on the spot,"
China Global Television Network
reported a police officer saying.
On social media, many people said what happened was truly an act of karma:
@PDChina Karma at it's finest

— Sandraspell (@SsPelletier) April 9, 2017
@PDChina Karma!

— Raghavendra Singh (@ragh_twt) April 9, 2017
@PDChina Practically put the handcuffs on himself

— Tim M (@tim6731) April 9, 2017
One person laughed that the thief's quick arrest had to have set some kind of record:
Click
here for more trending stories
.