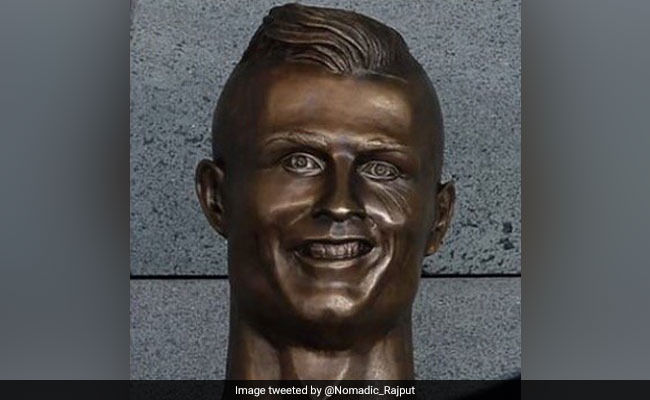 This time last year, sculptor Emanuel Santos had unveiled a statue of Cristiano Ronaldo that was
widely-ridiculed on social media
. Now, he has taken his shot at redemption and how! Mr Santos was commissioned by the website Bleacher Report to make another bust of the Portuguese footballer - and this time, he has silenced all his critics.
When the original statue was unveiled at the Madeira Airport last year, it made headlines all over the world for its lack of resemblance to Ronaldo and became the subject of many jokes and memes.
According to the
BBC
, Mr Santos said that the mockery of his initial work upset his family and made him feel "isolated".
However, the self-taught, amateur sculptor took up the challenge to create a new statue, and here is the impressive result:
29.03.2017 vs. 29.03.2018

Emmanuel Santos' shot at redemption. pic.twitter.com/A91RjDJCOF

- B/R Football (@brfootball) March 29, 2018
People are all praise for the effort
Im proud to say "that man is my uncle".He is a perfect example of hardwork,even if its not for everyone's liking ,he still feels good about it.What i see in that video is a great man with a beautiful mentality and a creative mind.#PROUD

- iiu (@tscifiprincess) March 29, 2018
Great courage and determination from the sculptor to redo his work after so much criticism. Definitely a great improvement.

- FcPorto 1893 (@MrRichTeixeira) March 29, 2018
We all made fun of a man who tried his best. I actually feel bad now, but it made him take on a challenge and better his talent and he showed the world he can. Great story. Great talent. https://t.co/qsGg5wqwK7

- Ash (@IconicCristiano) March 29, 2018
Second one looks really good, fair play to the man https://t.co/cBjUg4PG4F

- Jaskaran (@WhiteHartKxne) March 30, 2018
"I want my son to understand that if he enjoys doing something very much, he doesn't let himself be defeated with negative criticism," says Mr Santos in the documentary by Bleacher Report.
Watch the documentary in full below:
A year ago today, Emanuel Santos' Cristiano Ronaldo bust was unveiled. The world laughed at him.



We challenged him to try again. He accepted. pic.twitter.com/TLV1iJv1MN- B/R Football (@brfootball) March 29, 2018
What do you think? Let us know using the comments section below.
Click for more
trending news