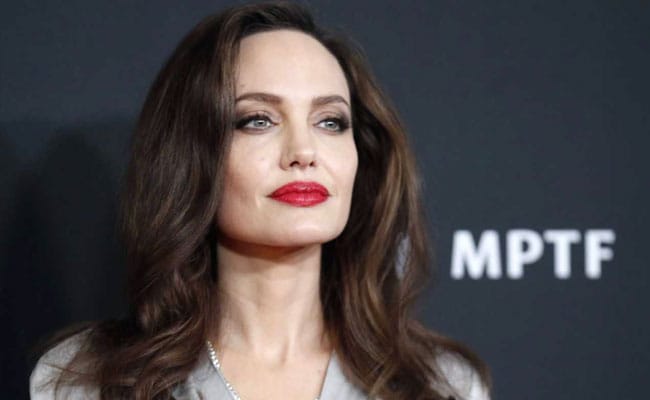 An Instagram user has managed to send social media into a frenzy after reports that she underwent 50 surgeries to look like Hollywood star Angelina Jolie went viral. Iranian Instagram user '
sahartabar_official
' is apparently a huge fan of the
Tomb Raider
star and "would do anything" to emulate her, reports
The Sun
. However, many on social media are not convinced of the plastic surgery claims and suggest skillful makeup techniques could be behind the stark look seen in her Instagram pictures.
Sahar Tabar has a following of over 5.1 lakh and regularly posts pictures and short videos of herself. While some Instagram users have used words like 'zombie' and 'monster' to describe her, others wonder if the pictures have been photoshopped. Some have even said she "looks like a creepy Tim Burton doll."
According to
Al Arabiya
, Sahar also went on an extreme diet to lose weight - she currently weighs about 40 kilograms.
While some reports claim Sahar underwent 50 surgeries to look like her favourite star, it has not been confirmed if her look is in fact the result of extreme surgeries or just excellent makeup or photo editing skills.
Here's what Twitter has been saying about Sahar:
This Iranian woman who's 'apparently' undergone 50 surgeries to look like Angelina Jolie, looks like the dead version of her Bruh! That nose?! No man Surely this is the biggest hoax of the year & that's all prosthetics...? #failpic.twitter.com/fEZUobauru

- Sade Giliberti (@OneSadie) November 30, 2017
Not sure if it's true but allegedly this is the lady before and after surgery to look like Angelina Jolie pic.twitter.com/wYR9bnN0bX

- Jennyuine (@Hotlegs_74) November 30, 2017
That chick y'all been freaking out over that made herself look like Angelina Jolie, only half true what she did. She's Iranian, and many Iranians still in Iran LOVE to get plastic surgery. Those pictures of her going around tho, corpse bride makeup.

- (@atousanotmedusa) December 1, 2017
Sahar tabar is such a queen.

-(@QuranBoy666) December 1, 2017
sahar tabr you are prettier than #AngelinaJolie

- AWTHENTIK (@CorinaPretty_P) November 30, 2017
I can't believe the lengths some people will go through. She looks amazing before the surgery. But now. Hmmm I don't know. She looks like Emily of A Corpse Bride.

- The Dark Heart (@DarkPaleMoonlit) November 30, 2017
LOOOOL the media man.. she's an Iranian girl who's had the surgery, yes, but it's not that extreme she likes to do intense makeup to look like corpse bride..

- Iman (@ImanoooXX) December 1, 2017
Sooooo that girl everyone is posting about that got plastic surgery to look like Angelina Jolie.....yeah she definitely just edits her pics lmao pic.twitter.com/j5iueNBkjx

- Maha (@indigoamira) December 1, 2017
Click for more
trending news