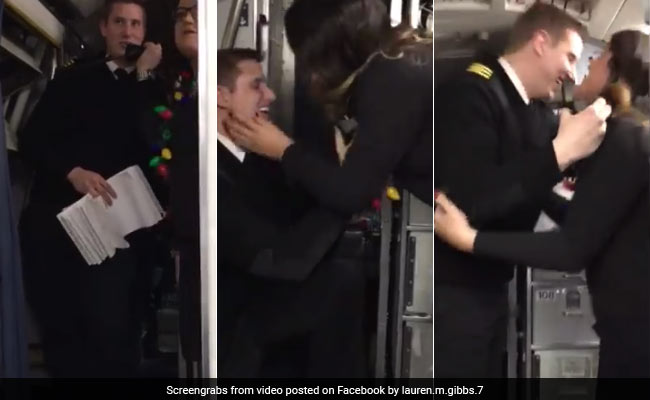 Flights can usually be quite boring. However, passengers on-board a flight from Detroit to Oklahoma City were in for a special treat when their pilot proposed to his flight attendant girlfriend moments before take-off. A video of the heartwarming proposal has gone viral and is bringing a smile on many faces.
"Last night, on a plane, in front of passengers, I got to say the easiest YES of my life to my best friend!" says Lauren Michele Gibbs in a Facebook post shared on December 24. Her post is complete with a video of the beautiful proposal and pictures of her new ring.
The video opens with pilot Jon Emerson briefing passengers about the flight when he switches gears to talk about Ms Gibbs. "This is a very special day for Lauren and me. It's our anniversary today and she's one of our very best flight attendants," he tells the passengers.
"I want this day to be known for the rest of our lives. I want to spend the rest of my life with her," he adds before whipping out a ring from his pocket. He then proceeds to go down on one knee and asks Ms Gibbs to marry him.
As the overwhelmed couple hug each other, Mr Emerson announces: "She said yes!" You can hear the cabin cheering and clapping for the happy couple.
While the video has collected over 1.8 lakh views, the post has received over 3,600 reactions.
"Congratulations, that was an amazing proposal and gorgeous ring!" says one Facebook user. "Congratulations! This is the cutest proposal ever!" says another.Click for more
trending news