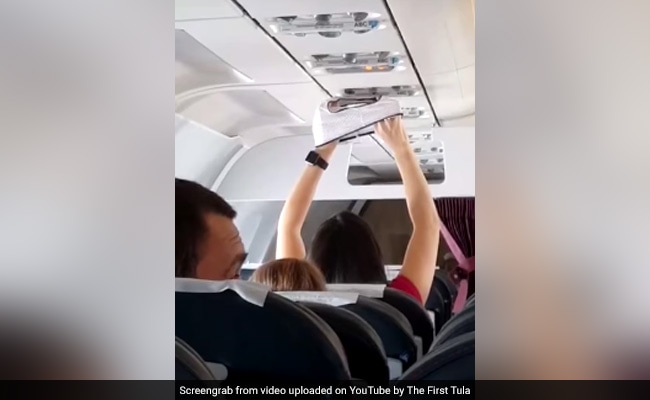 The Internet is no stranger to nightmare air travel stories and ghastly co-passengers. The constantly crying baby or the child who keeps kicking the seat from behind - there's no dearth of such
horrid tales
. In yet another horrifying mid-air instance, passengers were subjected to an unappealing sight on a flight to Moscow - a woman was filmed drying an underwear under the AC vent on what appears to be a packed flight.
The dreadful viral video was taken aboard a Ural Airlines flight heading to Moscow after taking off from Antalya, Turkey. The clip, shot on February 14, was sent to Russia's '
The First Tula
' website that shared the clip on
YouTube
.
The video, presumably shot by a passenger sitting several shows behind, shows the unidentified passenger holding up a white underwear and drying it under the vent. According to The First Tula, despite the shocking sight, fellow passengers didn't take up the matter with the woman. They just kept quiet.
"People looked with surprise and bewilderment, but all were silent," The First Tula quotes an anonymous eyewitness.
Eyewitnesses also said the brazen woman wasn't even slightly embarrassed as she continued to air the knickers for the next 20 minutes.
Watch the video here:
The bizarre incident comes just days after an elderly passenger's uncontrolled flatulence led a flight to make an emergency landing. The plane flying from Dubai to Amsterdam was forced to make an impromptu stop in Vienna after an in-flight scuffle broke out because the
passenger won't stop farting
. According to multiple reports, two passengers made several pleas and even complained to flight crew about the gassy situation but it fell on deaf ears as the elderly flyer continued to fart. When he allegedly refused to stop, a fight broke out.Click for more
trending news