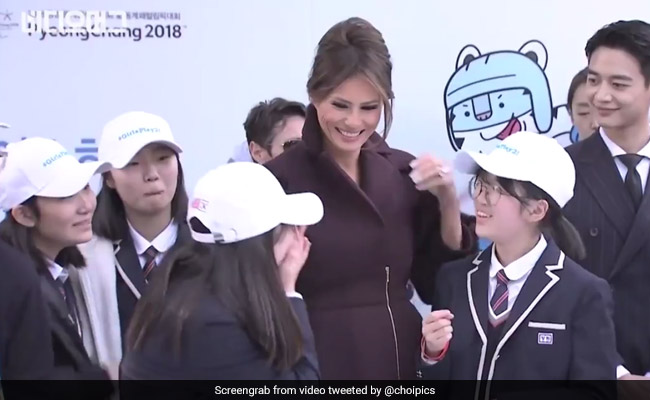 On Tuesday, while on tour in South Korea, US First Lady Melania Trump was upstaged by a Korean pop star in the most hilariously awkward way. Two teenage girls, while talking to Melania, suddenly spotted K-pop star Minho standing next to her and, in the words of the Internet, 'completely lost it'. A video that went viral on Twitter shows a schoolgirl, while talking to Melania Trump, realising that she was standing next to a member of the South Korean boy-band SHINee and going breathless with excitement.
Her excitement soon spreads to other teens around Melania, all of whom start jumping in excitement.
Watch the hilarious moment below:
I CANT BREATHEE SHE THOUGHT HER FRIEND WAS GETTING ALL EXCITED OVER MELANIA BUT THEN SHE TURNED AROUND AND SAW MINHO pic.twitter.com/YJcvROu6M0

- Dotae Global Updates (@siechng) November 7, 2017
People found the upstaging quite amusing:
I mean if minho was stood behind me I think I'd react the same pic.twitter.com/ykpUg9YbQP

- Helen Leatham (@HelenLXD) November 8, 2017
@HelenLXD@HarrisJada that girls reaction was too cute tho hehe...even Minho started laughing

- Fabi (@FABI8o) November 8, 2017
When you're supposed to meet Melania Trump but instead fangirled to Minho

pic.twitter.com/ENsItJK9AM

- MEME; PAULA DAY! (@cataestrophee) November 7, 2017
Girl 1: 'Oh look it's the wife of the president of the US'

Girl 2: 'Lol'



'Girl 1: 'I-is that m-Minho from shinee?'

Girl 2: pic.twitter.com/XKvfDvGxZU- suzan (@suzanfdo) November 7, 2017
Even Melania Trump seemed really amused by the teen's reaction, smiling broadly at her excitement.
Nice to see Melania genuinely smiling here, looks like she enjoyed her time with Seoul's K-pop stars & singers on Nov 7 #seenonweibopic.twitter.com/rm4j97sMnj

- Manya Koetse (@manyapan) November 9, 2017
this is honestly the first time ive seen melania smiling

- (@ARIXNNI) November 7, 2017
According to
ABC News
, Melania Trump had been nicknamed "robotic Melania" by South Korean media for her stoic demeanor, but many articles praised her 'smile diplomacy' after her meeting with Minho.
Click for more
trending news