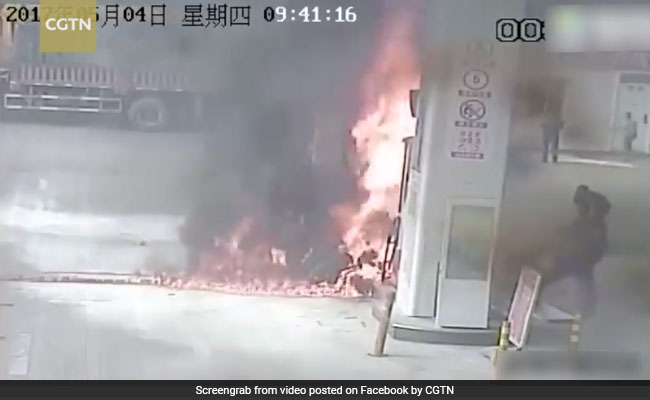 A video circulating on social media shows employees of a gas station in China putting on a brilliant display of teamwork to put out a fire started by a motorcyclist. Their act of bravery has won them a reward of 65,000 yuan (Rs 6,11,000 approximately), reports
China Global Television Network or CGTN
.
The incident, most likely recorded on a CCTV camera, occurred on May 4 at around 9:40 am in Yibin, China's Sichuan province. It shows the motorcyclist setting his bike's oil tank on fire once he was done refueling it.
A gas station employee can be seen promptly taking charge of the situation by grabbing a fire extinguisher to curb the fire. The man, however, pushes his bike, causing a bigger fire.
As the fire rages on, more workers from the gas station can be seen using extinguishers to control the fire. The man then jumps into the fire and has to be rescued by another worker. Several others continue to try their best to stop the fire. Once it is somewhat controlled, an employee is seen dragging the bike away from the fuel dispenser.
The staff's team effort worked and they managed to put out the fire eventually. Thankfully, no casualties were reported from the incident.
(Disclaimer: Content in this video could be disturbing for viewers.)
Several people on Facebook have criticized the motorcyclist while others have praised the employees for their effort.
"What is wrong with him," says one Facebook user on the video. "That was intentional. Why would he push it over? says another.
"Great work! Risking their lives and saving both the man and the GAS station," says a commenter. "That's the real hero," says another. "I take my hat off to the staff members at the petrol station. They deserve a pay rise," another Facebook user comments.
Tell us what you think of the video in the comments section below.Click for more
trending news