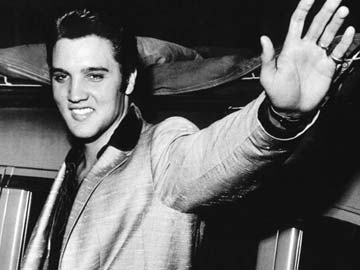 New Delhi:
"Lonesome tonight" or not, if you are in for "a little less conversation" and appetising American cuisine, head to the capital-based multi-cuisine restaurant, Life Caffe of Hotel Corus, that will take you back in time to when Elvis Presley, the undisputed king of rock and roll, ruled supreme.
Titled Presley on Platter, the fest will be on all this month and it will take you back to the 1960s and 1970s when the legendary American singer ruled the music charts and hearts of many youngsters.
With food categories on the menu inspired by his hit numbers like "Jailhouse rock", "I'm all shook up" and "Love me tender", the food, his posters and songs played at the restaurant will make you feel connected to Presley in some way or the other.
"We wanted to connect with the youth of today and those of yesteryears, so we needed to introduce certain elements and an Elvis Presley festival is one way to do it. He was a youth icon, so people can feel connected through his music," Deepak Khera, hospitality consultant, Life Caffe, told IANS.
They did try to stick to the theme as much as possible, but didn't turn the entire restaurant into a Presley special except a few corners inside and the outside area, which were decorated with the late singer's posters.
I found that the music also varied depending on the crowd and requests made by them.
"It is not an Elvis restaurant, so we can't spend a lot on décor to suit the fest's theme. As far as music is concerned, we try to play Elvis' numbers throughout the day, but if someone requests for songs by other artists, we play them too," said Khera.
It was time for me to dig in and the Elvis menu's "love me tender" burgers tempted me for sure, but as my eyes moved towards the next food item, I couldn't resist. One foot long hot dogs with fries!
Out of the three options - American BBQ chicken, sweet chilli (pork) and texmex (veggy) under the "Hound Dog hot dog" category - I asked for the first one. The sliced bun was roasted well with butter on it. It reminded me of buttered 'pav' eaten with spicy 'bhaji'.
Back to the hot dog - it was made with everything that goes into an American BBQ -- sausage with mayonnaise, mustard and tomato sauce. Fortunately, the strong flavour of mustard was not too strong and allowed me to enjoy the taste of creamy mayonnaise and ketchup.
Accompanied by fries, it was quite filling.
I didn't want to pair my food with some shake, so I skipped the "All Shook Up shakes" and chose one of the cocktails - mystic margherita from the "Jailhouse Rock 'Tails". The lemon flavour and chunks of ice made it the perfect summer drink though I would love to see more of non-alcoholic drinks on the Elvis menu.
From the special menu, I thought of selecting one of the sandwiches - peanut butter with banana and bacon from the "Tender Feelings Witches" category. If you take the bacon out, you will get what can be easily prepared at home - grilled bread with peanut butter spread and banana pieces.
But Neeraj Kumar Malhotra, executive chef of the restaurant, insisted it's different.
When I bit into it, I was pleasantly surprised. I was expecting it to be a sweet food item, but it turned out to be salty, thanks to the bacon stuffing. The meat undoubtedly dominated the flavour. The carrot-radish pickle that was served with it added to the surprise element. The whole taste was anything but sweet. It was salty and sour. No wonder the sandwich was apparently Presley's favourite.
Last up was the "Devil In Disguise dessert".
The cream team sounded fattening, but when Malhotra told me about the presence of fruits, I almost thought of it as a super food in the form of dessert. Made with rich cream and fruits like kiwi, apple, papaya and banana, it was served in a tall glass. The appearance was killer and I thought it would taste that way too. But the first spoonful made me feel like it lacked something.
I asked for it to be served chilled and the staff was happy to oblige. Around 10 minutes later, the dessert's taste - soft, creamy and sweet - was further enhanced by the cold temperature.
A scrumptious meal for two can cost as low as Rs.600 plus taxes and if there is Presley's music playing along then you eat and sway too.