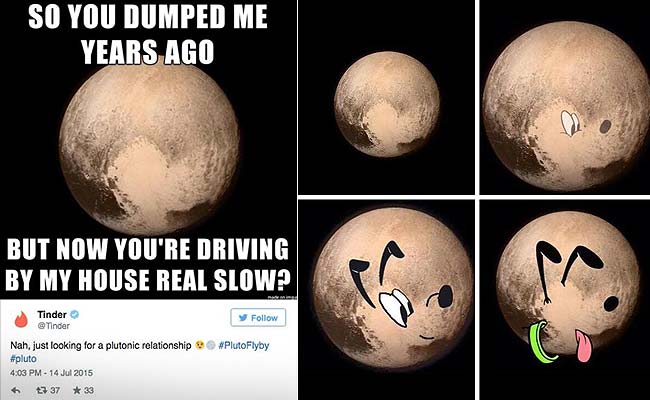 It's official - nothing and no one escapes from the Internet's sense of humor and its favorite tool of mischief, Photoshop.
So naturally, when news hit social media that NASA's New Horizons spacecraft had finally passed by the dwarf planet Pluto and sent across historic pictures of the ice-and-rock planetoid, netizens left to their devices did what they did best; made memes of it.
It doesn't matter that the spacecraft travelled over 4.8 billion km at the speed of 45,000 km per hour and endured a nine-and-a-half-year long journey to accomplish this mammoth feat, the Internet is still looking for Mickey Mouse's pet dog Pluto on the face of the dwarf planet's surface.
Take a look at some of the funniest memes and jokes people came up with:
Lonely Pluto. pic.twitter.com/YI3sTva5pv

- Liam WOTO (@luffwoto) July 14, 2015
Oh, boy! There's no pup more stellar than Pluto. pic.twitter.com/QwH1r51GGG

- Disney (@Disney) July 14, 2015
The new Pluto pictures are amazing! pic.twitter.com/uOAeJmBDCW

- Brian Gaar (@briangaar) July 14, 2015
How Pluto felt today pic.twitter.com/QJYo1ukPs1

- Josh Constine (@JoshConstine) July 15, 2015
When you kick Pluto to the planetary curb but then drive by her orbit really slow. pic.twitter.com/xSdj8TfNVV

- Justice Don Willett (@JusticeWillett) July 15, 2015
PLUTO pic.twitter.com/Q3RW9jrhfS

- hiba (@iatemuggles) July 15, 2015
The worst brand tweets about the #PlutoFlybyhttp://t.co/spFjARm7xMpic.twitter.com/2R9TJfhnqO

- Gizmodo (@Gizmodo) July 14, 2015
hey guys.... the pics came in from the other side of pluto and... pic.twitter.com/tV89oM9BL0

- Lana Polansky (@mechapoetic) July 14, 2015
Does anyone else see Pluto on Pluto? pic.twitter.com/cmf9k4Sqaq

- Dr. Science Cat (@DrScienceCat) July 14, 2015