The world's shortest woman met the world's tallest man on Friday for a photoshoot in Egypt. Sultan Kosen from Turkey, who stands 8 feet and 9 inches tall, met Jyoti Amge, the world's shortest woman at 62.8 cm or 2 feet and 6 inches. Ms Amge, who belongs to Nagpur, holds a Guinness World Record for being the world's shortest woman. According to the
Strait Times
, the 25-year-old Ms Amge met 36-years-old Ms Kosen in Egypt's Giza city on the west bank of the Nile.
According to the
Independent
, the two were invited to Egypt by the Egyptian Tourism Promotion Board to help boost tourism in the country.
Wonderful pictures from their photoshoot highlight the height disparity, thrown into even greater contrast as they stand together. Their pictures have been tweeted, retweeted and shared thousands of times on social media since they were released.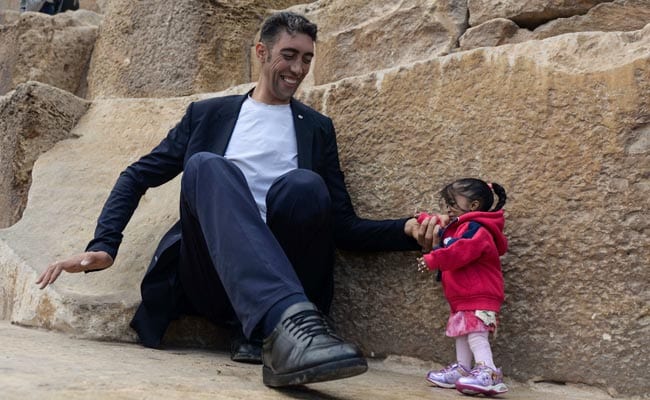 Mr Kosen's height is a result of a condition known as pituitary gigantism. He became the world's tallest man in 2009, and remains one of the only 10 people in history to reach 8 feet in height or more.
Ms Amge's height, on the other hand, is due to a form of dwarfism called achondroplasia. She stands shorter than the average 2-year-old child. She has appeared in TV shows like
Bigg Boss
and
American Horror Story.
In
November 2014
, Mr Kosen had met with the world's shortest man - 21 and a half inches tall Chandra Bahadur Dangi - in London.
Click for more
trending news