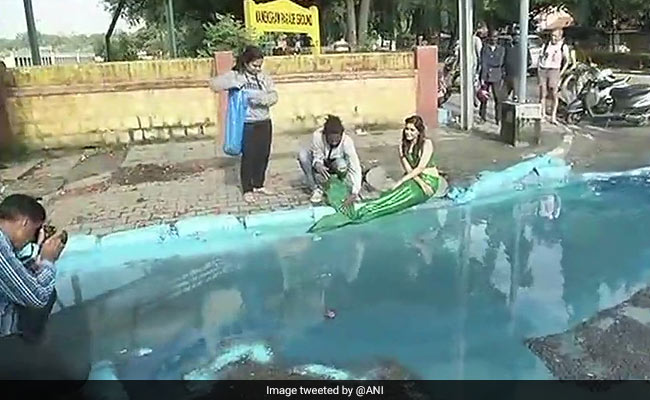 Days after
Karnataka Chief Minister K Siddaramaiah
asked for over 15,000 potholes on Bengaluru's scarred roads to be fixed within 15 days, a unique and colourful protest. One involving mermaids, the mythical creatures thought to be half-woman, half-fish.
Popular artist
Baadal Nanjundaswamy
transformed a waterlogged, pothole-ridden road in the city's Cubbon Park Junction area into a colourful protest site. Photos tweeted by news agency ANI show the muddy water in the pothole dyed a bright turquoise. Even more eye-catching? The presence of a "mermaid," sitting on the side of the enormous pothole with her "tail" submerged.
Bengaluru: In a unique protest against pothole deaths, an artist turns a pothole into a mermaid's living space in Cubbon Park Junction area. pic.twitter.com/oOTOQFBSHI

— ANI (@ANI) October 13, 2017
Two years ago, Mr Nanjundaswamy caught the Internet's attention after creating
a life-size crocodile and swamp
as an installation to highlight a pothole that hadn't been fixed for days. Photos of his unique artwork quickly went viral and pushed embarrassed local authorities to swing into action.
Earlier this year, business tycoon Anand Mahindra tweeted pictures of Mr Nanjundaswamy's street art, complimenting him.
Yesterday I tweeted how Ukrainians dealt with potholes. Here's how we creative Indians turn our liabilities into--literally--'street art!' pic.twitter.com/Luz2N7l3hz

— anand mahindra (@anandmahindra) August 1, 2017
Your work is exciting, @baadalvirus Thank you for your contact details. I will be in touch... https://t.co/ZtanfFUnKE

— anand mahindra (@anandmahindra) August 1, 2017
According to ANI, Mr Nanjundaswamy's unique protest comes after
at least four deaths were reported
over the past week in accidents caused by potholes.
Monsoon rain and frequent flooding over the last few months have battered Bengaluru's roads and the municipality claims there are now more than 15,000 potholes in the city's 14,000 km road network which they have said can only be fixed once the rain stops.Click for more
trending news