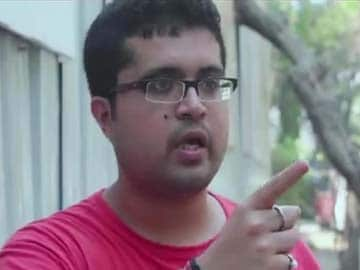 "I don't have a voter's ID because
sab chor hain
(all of them are thieves). Everybody is
chor
.
Kyun vote karu main
(why should I vote)?", says the 'normal' guy. Who doesn't know anything because, well, he is normal. Whatever that means.
Yet another hilarious video goes viral and this time it's the TVF Media Labs produced, How I Met Your Neta, which was uploaded on their webcast TVF Recycle Bin on YouTube recently.
The video is a sneak peek into the Indian
janata's
(Mumbai and Delhi) abnormally high general IQ level *cough*, and is a silent reminder of the consequences of missing History and Civics classes in school. It also gives information about the SMS service run by www.myneta.info which gives one complete information about the politicians contesting from an individual's locality.
Here are the top things we learn from this video.
1. The legal age for voting in India could be anywhere between 18 to 21. It's 18 by the way. EIGHTEEN. Mug this up.
2. Politics in India ails from not just corruption but also that terrible thing called old age.
3. Those snooty MBAs who could have saved the country from poverty, are somehow tragically dying on the streets while corrupt (and old) politicians add value to their bank accounts.
4. The full form of MLA could possibly be Minister of Lok Administration. Or Los Angeles. Oh you clever boys, you.
5. The full form of MLC is Medical Leaving Certificate. Friends, Indians and countrymen, the answer is Member of Legislative Council. Mug this one up as well.
6. However, it was the trick question which received the most imaginative answers:
Q. Which hand should be used while voting?
A. Left. It is close to your heart.
Okay. That's it. We give up. Just watch.