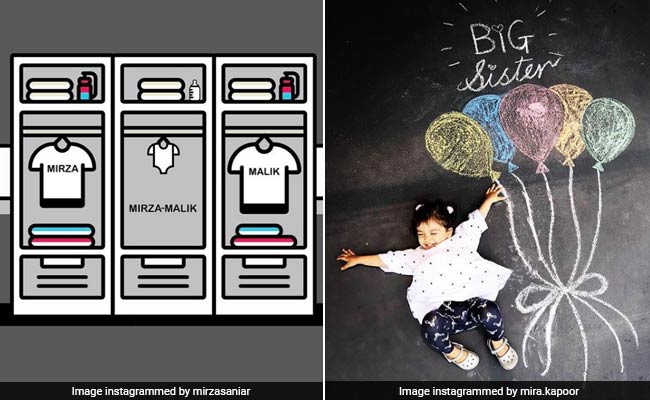 Social media's favourite celeb baby Taimur Ali Khan is breaking the Internet one picture at a time. But with a spate of pregnancy announcements, it looks like he may have some competition (or lots of little new friends to look forward to). We can't help but notice that the latest trend amongst celebrities is to announce their pregnancies on social media - often with adorable pictures or videos with innovative hashtags.
Today, tennis superstar Sania Mirza and Pakistani cricketer Shoaib Malik announced that "Baby Mirza-Malik" is on the way.
Over the weekend, actor Shahid Kapoor and wife Mira Rajput posted a delightful picture of their daughter Misha, who is going to be a big sister.
Parents-to-be, if you're looking for a neat way to announce your pregnancy, here are plenty of ideas for inspiration.
Here are five celebrities who announced their pregnancies in the most new-age way on social media.
Sania Mirza and Shoaib Malik
The tennis superstar announced her pregnancy with this adorable image. Keeping things simple in the caption, Sania used the hashtag #BabyMirzaMalik along with an emoji of a baby and a heart.
Mira Rajput and Shahid Kapoor
Mira Rajput and Shahid Kapoor posted this sweet picture of daughter Misha to announce baby #2. We can't help but wonder whether Mira and Shahid have their thinking caps on for baby name options. As we're sure you already know, their daughter's name Misha is a portmanteau of both their first names. Cute,
na
?
Lisa Haydon
Actor, model and Top Model India host Lisa Haydon was perhaps one of the first Indians to show off her baby bump on social media. This post announcing her pregnancy with husband Dinesh "Dino" Lalvani on January 12, 2017 was simply captioned "Humble beginnings." Throughout her pregnancy, Lisa shared pictures of her ever-growing baby bump with her followers. They earned her plenty of Insta-love.
Kate Hudson
Hollywood star Kate Hudson announced she's expecting a baby girl with boyfriend Danny Fujikawa in this adorable gender reveal and pregnancy announcement video on Instagram. The 39-year-old mother of two revealed, however, that it hadn't been an easy first trimester. "If you've wondered why I've been so absent on my social channels it's because I have never been more sick!" she wrote in a caption accompanying the video. "We have been trying to keep this pregnancy under the radar for as long as possible but I'm a poppin now!" she added. "And it's too darn challenging to hide, and frankly hiding is more exhausting then just coming out with it!"
Chrissy Teigen and John Legend
Social media favourite Chrissy Teigen also announced her second pregnancy with a little help from her first-born. It was little Luna who pointed at her mummy's swollen belly and said there is a baby inside. The ever-funny Chrissy confirmed (for anyone who was wondering) that the child is, indeed, husband John Legend's.
With incredible pregnancy announcements such as these, the Internet is waiting with bated breath for all the Insta-updates coming their way.Click for more
trending news