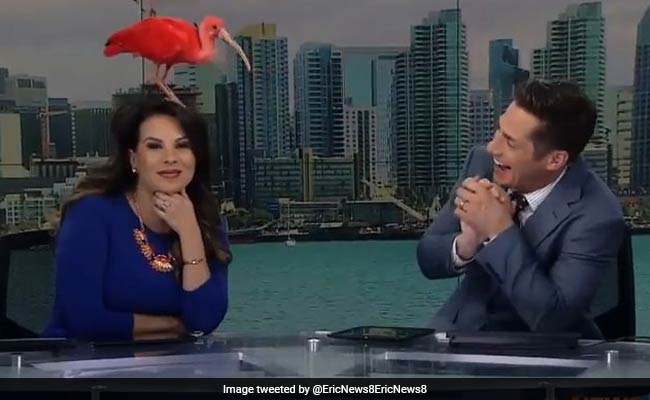 An exotic bird eager to make its television debut landed on a news anchor's head, much to her amusement, during a live broadcast. Footage of the hilarious incident - television gold - instantly went viral.
The scarlet bird seen in the video, an ibis, is a resident of the San Diego Zoo in California. It was on set at San Diego's KFMB-TV for a segment on the morning show called "Zoo Day."
Except, things didn't go quite as planned.
Nichelle Medina and her co-anchor, Eric Kahnert were heading in to a break and teasing the "Zoo Day" segment when suddenly the bird flew into the frame and landed on Ms Medina's head, kickstarting the segment a bit too early.
To her credit, the anchor took the bird's unexpected entry surprisingly well. She remained calm and smiled with the bird perched on her head.
"How's that for an introduction?" laughed Mr Kahnert, as Ms Medina looked on nonplussed. Within seconds though, the bird flapped over and landed on Mr Kahnert's head.
This laugh-out-loud funny #BirdBlooper is just what you need to see before the long weekend.
Watch the viral video below:
When Zooday doesn't go as planned, but your anchors are really good sports. @News8pic.twitter.com/beaIwk3JGR

— Barbara Richards (@sdbrichards) February 23, 2018
Mr Kahnert posted a longer version of the #BirdBlooper and the segment featuring the gorgeous ibis on YouTube.
"I have never seen anyone stay as cool as @nichellenews8 in this clip. Very impressive, Nichelle," tweeted a fellow television anchor.Click for more
trending news