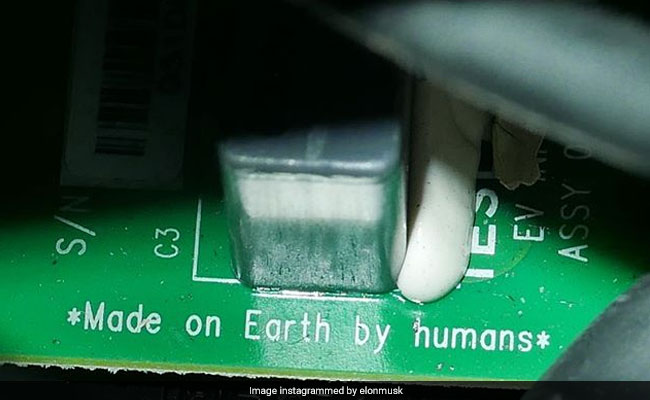 Elon Musk's SpaceX blasted off the world's most powerful rocket Falcon Heavy towards an orbit near Mars on Tuesday. With the force equal to 18 747 jetliners, the Falcon Heavy with its 27 engines soared into the sky in its closely-watched maiden test flight. Adding a sweet (and promotional) touch to the most-awaited launch, SpaceX and Tesla CEO Elon Musk sent his personal Tesla Roadster car tucked in the nose of the Falcon Heavy rocket. The cherry red electric sports car also had a driver - a spacesuit-donning mannequin named "Starman". With one hand firmly on the wheel, words "Don't Panic" etched on the dashboard and David Bowie's "Space Oddity" playing in the background, "Starman" was catapulted into space aboard the powerful rocket.
But dummy pilot "
Starman
" wasn't Elon Musk's only gimmicky-but-cool addition to the cherry red Roadster. The car also bore a hidden message for any extra-terrestrial beings that it may encounter on its journey that could last a billion years.
"Made on Earth by humans," read a message imprinted on the circuit board of the automobile heading into the darkness of space.
SpaceX founder Elon Musk shared an image of the secret message on his Instagram page. English may or not be declared the official language in space but on Earth, the message was clear - it was a genius move. In about 7 hours of being shared, the wicked image has nearly 9 lakh favourites.
Meanwhile, manned by "Starman", the Roadster continued its journey into space. The historic journey was beamed live on YouTube and seen by millions.
The Roadster was also
outfitted
with a data storage unit containing Isaac Asimov's science fiction book series, the Foundation Trilogy, and a plaque bearing the names of 6,000 SpaceX employees, reported AFP.
If the shiny automobile survives its five-hour journey through the Van Allen Belt - a region of high radiation - it will attempt a final burn toward Mars, Musk said in a post launch press conference.
Then, the car would enter an orbit around the Sun that brings it close to Mars, on a journey that could last a billion years and take it as far as 250 million miles (400 million kilometres) from Earth.
"Maybe it will be discovered by some future alien race," Musk told reporters.
The Falcon Heavy's journey that may take it close to Mars began from the same launch pad as the Apollo 11 that took off four decades ago to take humans to the moon for the first time.
With AFP inputs
Click for more
trending news