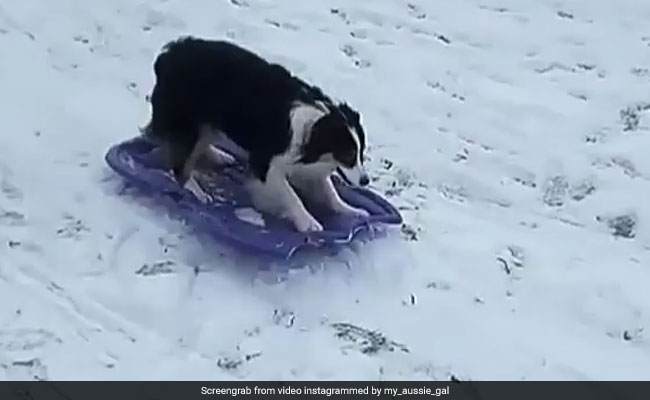 It doesn't matter if you hate the winter season - this adorable dog's love for the snow is so infectious, she'll make chilly weather bearable for you too. A video going viral shows an extremely clever dog sledding all by herself in the snow. Her video has collected over 1.8 lakh views and more than 41,600 'likes' on Instagram since it was shared on December 29.
Instagram user my_aussie_gal shows several videos of Secret, an Australian Shepherd, and her human Mary. This one going viral shows Secret sledding up and down a snowy hill on her blue sled - all by herself. The little pooch can be seen dragging her sled up the hill using her mouth, then climbing on it and sledding all the way down. Once at the bottom, she can be seen starting the drill all over again.
"Sledding! We finally got enough snow to really sled yesterday and Secret couldn't be more thrilled! It's definitely one of her favorite activities, she probably went down this hill 50 times today!" says the Instagram post along with the video.
Watch her in action below:
Isn't Secret adorable and incredibly smart? Internet is totally obsessed with this video - there are several versions of it floating all over social media.
"This is so adorable!!!" says one Instagram user on the video. "Totally amazing dog," says another.
"I can watch this a million times... so darn cute!" says one commenter. "You and I don't know each other, but you made my day by posting this. With all the angst and drama going on in the world, this was so joyful and really lifted my spirits. Thank you so much," says another.
Secret is not only a wonderful sledder but also talented in other things too. You can read about that
here
.Click for more
trending news