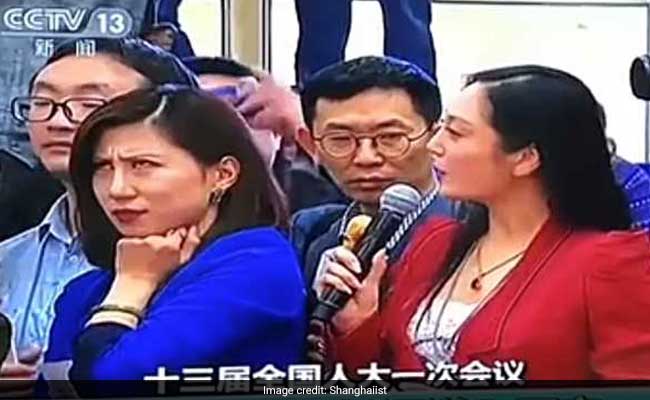 Liang Xiangyi has become an overnight Internet sensation in China. The reason - a dramatic, very obvious and exasperated eye-roll she gave to a fellow journalist at a press conference that went viral in China after it was broadcast live on state media.

The two journalists were part of the press conference following the annual meeting of China's National People's Congress, where questions are known to be screened and pre-approved. The journalist dressed in red, identified as Zhang Huijun from American Multimedia Television (AMTV), asked a long-winding question, laced with praise for government's initiatives. The channel is known to have a tie-up with China's State broadcaster, CCTV. Liang Xiangyi, who stood besides her, couldn't help but express her disdain. As Zhang Huijun went on and on for nearly 40 seconds, Liang Xiangyi didn't hide how unimpressed she was, as she dramatically rolled her eyes and looked away with disgust.
Watch the moment that broke China's Internet:



While her colleague may have missed Liang Xiangyi's disapproving eye-roll, the Internet certainly didn't. Within hours, her expressions became the talk of China's Internet space, reports Shanghaiist.

Memes, GIFs, cartoons and parody videos of the priceless TV moment soon popped up on the Internet. Chinese social media was divided into blue and red camps for the two journalists.


Amazing to see how these two ladies just exploded over Chinese social media in the span of a few hours. Fan art in the making #RedBlueCampspic.twitter.com/s6frv2gEgW

— Lulu Yilun Chen (@luluyilun) March 13, 2018
Found my cell phone cover for the spring season on Taobao pic.twitter.com/wTjgndsfDx

— Lulu Yilun Chen (@luluyilun) March 13, 2018
Worth a thousand words pic.twitter.com/OdLsL39H1Y

— Tom Hancock (@hancocktom) March 13, 2018
Then came the censorship.
Soon after Liang Xiangyi became one of the most searched names in China, censors tried to curtail the hysteria. According to
Free Weibo
, her name was the second most blocked word on the Chinese social media platform Weibo, surpassing even "Xi Jinping".
According to
WhatsOnWeibo
, when a colleague told Liang Xiangyi, a reporter from Chinese financial news service Yicai Media, that her eye-roll was witnessed live on television, she didn't seem to care much. In a WeChat conversation
leaked
online, the reporter said she rolled her eyes because the woman next to her "was being an idiot."
But the eye-roll resulted in her media accreditation to cover the NPC was revoked, reports
South China Morning Post
, quoting a colleague.Click for more
trending news