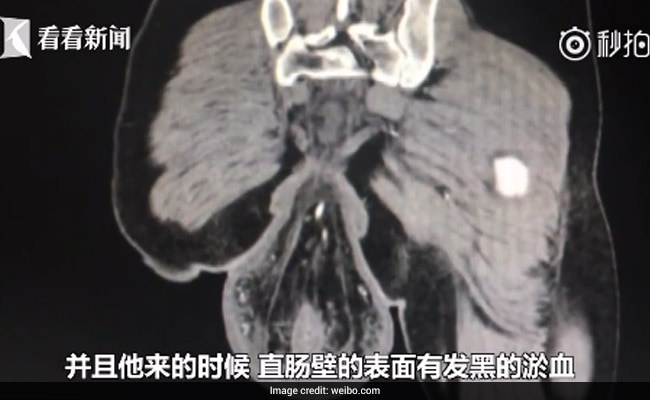 Let this be a warning to those who spend hours on their cell phones while doing their business in the loo. A man from China had to part ways with his rectum after he sat on the toilet for too long playing video games.
The gaming enthusiast was rushed to the hospital at midnight after a ball-sized lump fell out of his anus,
Daily Mail
quotes local reports. Although hanging out of his bum, the six-inch-long part was still attached to his bottom, the report said.
Images of a CT scan of the man's rear showed a big lump hanging outside his body.
According to
The Sun
, doctors believe the man's rectum could have fallen out of his bottom because of sitting too long on the toilet as it weakens the pelvic muscles. The man reportedly told doctors he was trying to defecate for about 30 minutes. The condition was diagnosed as rectal prolapse where the end part of the intestines loses its attachment with the body and comes outward while turning "inside out".
The man reportedly suffered from rectal prolapse as a child and never got it treated, which made the condition worse, said the doctor treating him.
Surgeons at The Sixth Affiliated Hospital of Sun Yat-sen University surgically removed the body part from his body and he is said to be recovering.
The incident was reported on February 4 in south-east China's Zhongshan, reported
Kan Kan News
.Click for more
trending news