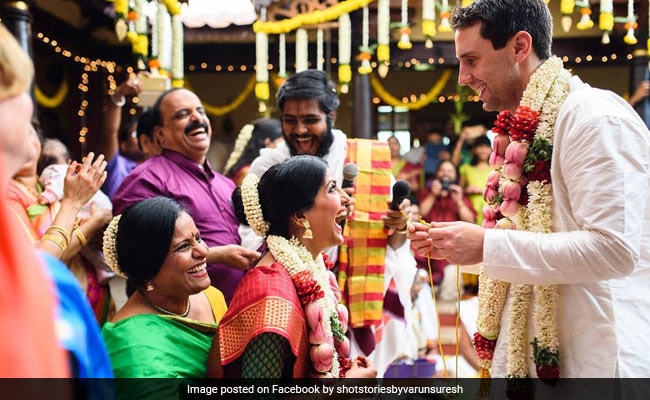 A heartwarming wedding photograph from Chennai has gone viral in India. It shows a woman getting married on her mother's lap - effectively turning the ritual of kanyadaanam on its head. The ritual is traditionally performed by fathers on their daughter's wedding, but Rajeswari Sharma, a single mother from Chennai, chose to 'give her daughter away' on her own terms.
"Every single parent (mother or father) would give anything to be able to give away their daughter. Especially when they have been both mother and father to their daughter. I am extremely happy that I had the opportunity to do this for my beautiful Sandhya with my family and friends' unconditional support," she tells NDTV.
According to
News Minute
, Rajeshwari Sharma comes from a conservative Tamil Brahmin family herself. "I got married very early, at the age of 21, and moved to Australia with my husband."
She and her husband decided to separate after 17 years of marriage.
When her daughter decided to marry Sam, an Australian, and said she wanted a traditional Hindu wedding in Chennai, Rajeshwari stepped up to perform the role of a father at her wedding too.
Though the wedding took place in January 2017, Sandhya's picture of sitting on her mother's lap went viral after it was
shared on Facebook
by Aravindan Sudarsan on January 21 this year.
The heartwarming pictures from the wedding,
captured by photographer Varun Suresh
, have many gushing over them.
When we asked Rajeshwari whether she faced any opposition from her family after she decided to perform Sandhya's kanyadaanam herself, the answer was a clear no.
"I had amazing support from all of them. They were with me throughout all the ceremonies. My sister is the most conservative out of all of us, and even she was supportive and stuck by me," she told NDTV.
On Faceboook, the picture has been shared thousands of times, and the original post has received over 4,000 'likes'.
"I am absolutely overwhelmed. Makes me so happy to see such positive reactions from so many people," says Rajeshwari.
Click for more
trending news