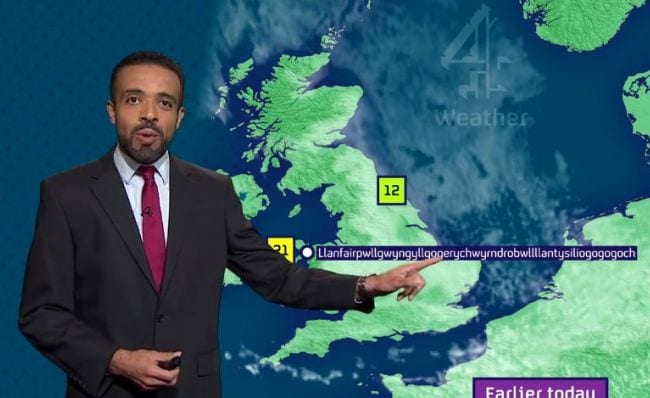 The only way to describe this Welsh weather presenter is 'supercalifragilisticexpialidocious'. And if you think that's a mouthful, you ain't seen (or heard) nothing yet.
In a video that's going viral with over 6.8 million views on Facebook, Channel 4 weatherman Liam Dutton talks about one of the warmest places in UK on September 9 in his forecast, and it just happens to be called, wait for it... Llanfairpwllgwyngyllgogerychwyrndrobwllllantysiliogogogoch.
No, that wasn't a seizure-induced typing error - that's actually the name of a large village in North West Wales.
The video shows Mr Dutton, calm as a breeze, pronouncing the giant name and then talking about the weather conditions in the area. He's so collected, you'd think saying that name out loud is a cakewalk.
It really isn't, even for those born Welsh, like actress Catherine Zeta-Jones who gave Mr Dutton 10 on 10. "Amazing job!! Some of those Welsh names are tricky!" she said on her Facebook page.
So watch Mr Dutton and then try saying 'Llanfairpwllgwyngyllgogerychwyrndrobwllllantysiliogogogoch' yourself. And while you're at it, also try saying 'Taumatawhakatangihangakoauauotamateaturipukakapikimaungahoronukupokaiwhenuakitanatahu.' That's the name of a hill in New Zealand.