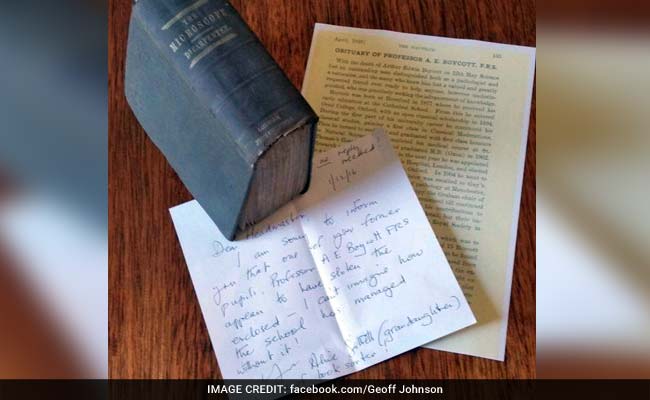 London:
Some 130 years after her grandfather borrowed a book from his school library, a woman in the UK has
returned it with an apology letter, saying "your former pupil appears to have stolen" it.
Alice Gillett, 77, came across a copy of 'The Microscope and its Revelations' written by Dr William B Carpenter, while clearing through her late husband's possessions from Taunton, Somerset in England, a media letter said today.
While turning the pages of the 1,000-page book, she discovered a date stamp showing it was borrowed from the library of Hereford Cathedral School in 1886, Metro.co.uk reported.
It had been loaned to her grandfather Professor Arthur Boycott who attended the school between 1886 and 1894. He was a distinguished naturalist and pathologist, the report said.
Gillett returned the book to the school along with an apology letter.
"I am sorry to inform you that one of your former pupils, Professor A E Boycott appears to have stolen the enclosed - I can't imagine how the school has managed without it!," she wrote in the letter.
The school does not charge for overdue books but if they had, Gillett could have been landed with a bill of 7,446 pounds (USD 9,463) - based on a 17p-a-day charge at most libraries, the report said.
Gillett said, "As a child, he (Boycott) took great interest in natural history, and his particular passion was snails. At age 15, he published his first paper listing the snail species that could be found in Herefordshire".
He also had a fascination with fauna and flora made him quite a hazardous driver because he was so obsessed with observing the hedgerows, she said.
"My grandmother said he always had snails in his pockets," she said.
Meanwhile, a spokesperson for the school said, "We are delighted to be reunited with the book and are pleased it is still in such good condition".
(This story has not been edited by NDTV staff and is auto-generated from a syndicated feed.)