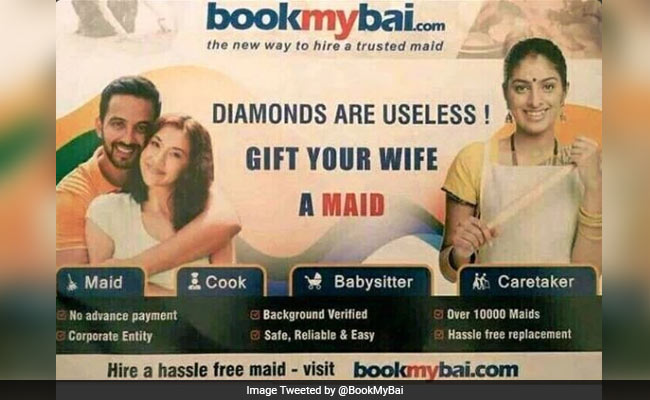 New Delhi:
BookMyBai, a service which allows people to hire domestic help online, has announced a blanket ban on Bollywood celebrities. The website's co-founder Anupam Sinhal has written a lengthy blog alleging that over 20 Bollywood celebrities mistreated domestic help hired via BookMyBai.com. He writes in detail about 5 specific cases, without identifying anyone. From claims of verbal and physical abuse to denying days off for personal emergencies and even refusing to provide adequate meals and compensation, Mr Sinhal alleges that working with celebrities in Mumbai has been nothing "less than horrendous."

Mumbai-based start-up BookMyBai calls itself "India's largest online aggregator of maid bureaus." Mr Sinhal writes that of the 10,000 households they have serviced since March 2015, they have not come across a single case of harassment or exploitation - until now.

"BookMyBai has worked very closely with a lot of Bollywood celebrities and provided them with a good domestic help in Mumbai and other cities and our experience has not been less than horrendous," he writes.

"I am only talking out of my personal experience of providing a domestic help to over 20 Bollywood celebrities in Mumbai...BookMyBai has a blanket ban on all Bollywood celebrities and we have instructed our team to not provide domestic helps to any of them," he adds

Here are some of the disturbing allegations of mistreatment:


"Celebrity 1" Mr Sinhal claims did not allow her domestic help to travel to Bihar to perform his mother's last rites. The reason? She reportedly wanted a replacement before allowing him to leave. "I have no words to the extent of disgust I now have for this lady," Mr Sinhal writes.
"Celebrity 2" reportedly drives a Rs 3 crore car but "doesn't give food to her domestic help. NO FOOD!!! Really!! Drink tea and eat bread 3 times a day. Wow!"
Worryingly, "Celebrity 3" has been accused of physical abuse. Mr Sinhal writes that the company wanted the woman to file a complaint at the police station but she refused. "She didn't have the time to run to the police station every time the police calls her. Every time she would be summoned she would have to miss work and not get paid. We understand her concern," he writes. "Without her support the police refused to take a complaint and we couldn't file a case against the employer."
He adds that the celebrity in question also threatened to post negative reviews of BookMyBai to her 4 lakh Twitter followers.
"Celebrity 4" reportedly threatened legal action against BookMyBai.com after her domestic help fled. Mr Sinhal claims that was due to the "verbal and physical abuse (that) was a part of her daily routine."
"Celebrity 5" refused to pay BookMyBai's service charge of Rs 15,000. "Initially when we were calling her for our payment, she stopped taking our calls. Later she flat-out refused to pay and said -"
jo karna hai karlo
!" (Do what you want)."
"All these cases disturb me," Mr Sinhal writes. "For BookMyBai, the safety and security of our domestic help is the highest priority. We are fine if we do not earn money from a certain employer. The least that we expect is that he/she can treat a person like a human should be treated."
"I also hope the legal system of this country improves for the better so that these ladies who work as a domestic help feel empowered and do not feel scared to report a case of abuse," he adds.
You can read the entire blog here.

Click here for more trending stories.