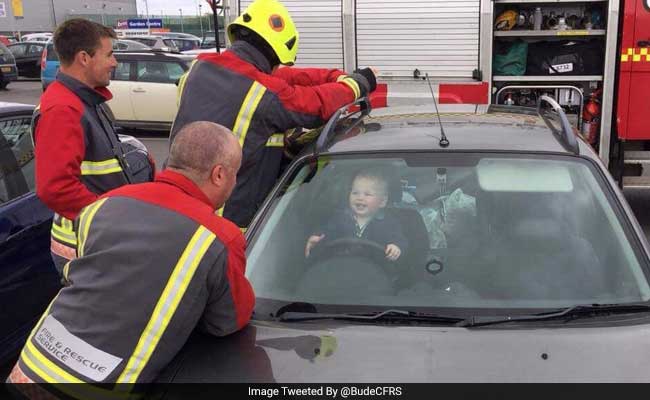 New Delhi:
A look at this picture would make you think that this baby is having a pretty good day. Although, what this picture doesn't tell you is the fact that he was locked inside a car while three firefighters were trying to rescue him. His mother was worried sick but was he scared? No chance.
The moment was captured by firefighters in Bude, UK. The baby's mother had finished unloading a shopping cart into the bootspace of her car when the toddler somehow managed to activate the central locking system. Unfortunately, the keys were also in there. "I was a bit panicky at first. Wondering how I was going to get him out, but luckily a few other shoppers quickly came to help me out, and one lady working in Lidl phoned 101," mother Kirsty Green told
Daily Mirror
.
Firefighters arrived on the scene quickly and began rescuing the 18-month-old. Just when his mother thought everything would be okay, the toddler put a 2-pence coin in his mouth. "That's when I started to panic, because I thought, "Oh God, what if he chokes on it", she told
Metro
. Firefighters then resorted to breaking the window of the car to bring the baby to safety. All this while the baby stood behind the wheel smiling ear to ear amused at the sight of the firemen. The mother said that the firemen were equally entertained with her son's antics.
The photo, shared by Bude Fire Station on
Twitter
, was taken on April 27. The baby was unharmed during the rescue and safely returned to his mother.
Click for
more trending stories