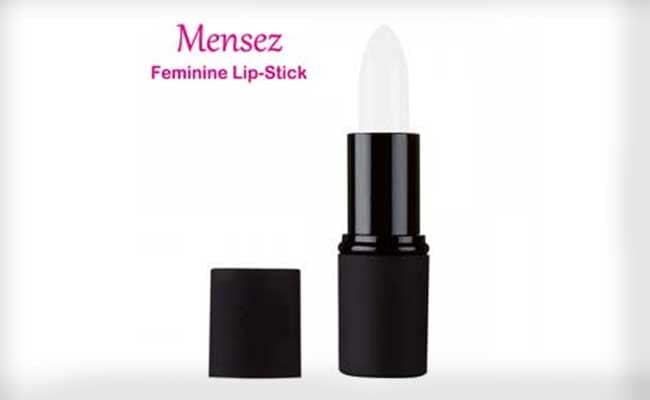 It sounded promising - an invention that will make life easier during periods. Except, Dr Dan Dopps, a chiropractor from Kansas, claims he has invented a glue to seal a woman's vagina during menstruation. Mensez, he says, is a 'feminine hygiene lip-stick' to give women 'freedom and greater control of their lives'. He even patented the questionable product which he says is a 'safer solution' for controlling periods than other traditional methods.
His website
explains
how to use the "lipstick". There is curiosity, but there is mostly skepticism.
The unconventional method didn't go down well with people. "This shows your obvious ignorance of the female anatomy. But then, what do I know? I'm obviously distracted by my menses", said a woman on his website.
It's 2017 and men still don't understand periods #mensez

— maura mcscience (@mauraisdumb) February 22, 2017
I'm not worried about bacteria with this, no different than a cup or tampon. Am worried about labial damage! https://t.co/CW2SsdNfVs

— Jennifer Gunter (@DrJenGunter) February 22, 2017
People who don't know how vaginas/periods work shouldn't try to create menstrual products https://t.co/NUv46aX3EW#thursdaythoughts#mensez

— Tara 💫 (@Catstello) February 23, 2017
Ummm....so you're now trying to #mansplain our periods to us? So much UGH 😑 #Mensez#ThatsNotHowAnyOfThisWorks

— BioPatriot (@SciencePatriot1) February 23, 2017
Even men had their issues with it
I. Just...NO... As a guy, I'm mortified at the lack of basic anatomy on display. Also would like to point out he named it Men Says...#Mensezpic.twitter.com/ukJFPyP5id

— Riley (@apollorising) February 22, 2017
He wasn't done yet. In a screenshot (see below) of the Facebook page of Mensez, which was reportedly hacked, the developer told a critic of the product - "you as a woman, should have come up with a better solution than diapers and plugs, but you didn't".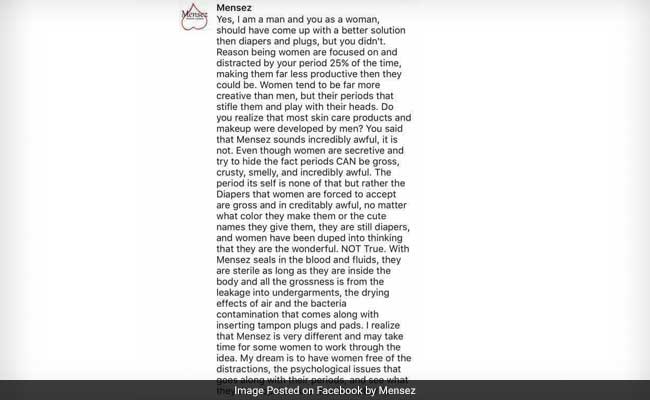 The product is yet to hit the market.