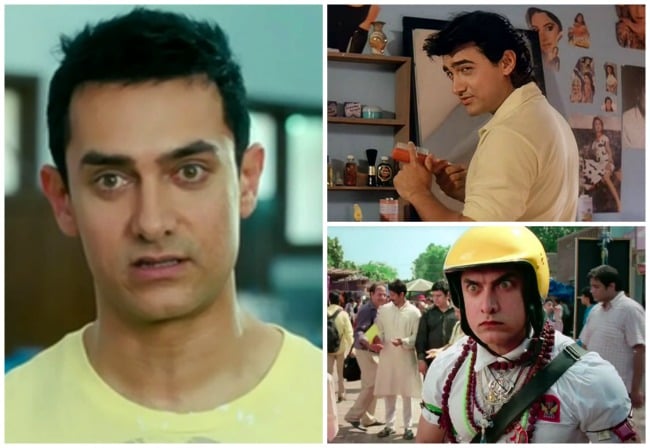 Aamir Khan - the name that spells blockbuster hits. It is also a name that brings to mind a 'chocolate hero' face, several stellar films, a bunch of iconic scenes, and the many genius get-ups (read Mangal Pandey's mooch, Ghajini's eight-pack abs, et al).
He's been called a method actor, a perfectionist and a superstar but we think it is his comic timing that is Aamir's most underrated talent. Sure, he is intense in serious roles, but he is also intensely funny whenever the script allows him to be.
The man of many talents is turning 50 tomorrow and we insist on beginning the celebrations early by giving you a list of just some the many hilarious movie scenes starring Aamir Khan, in no particular order of awesomeness:
1. When Aamir rocked a top to bottom yellow ensemble, walked into a five star hotel and asked the waiter to 'turn the AC in his direction'. *snigger* Urmila Matonkar's breakthrough film Rangeela is brightened 10-fold by Aamir's tapori act.
In fact, he is the hero and the joker rolled into one and managed to grab our attention in every single scene he was in.
2. When Aamir created magic with Salman Khan and made a film where he is so fabulous, he deserves to be pronounced a comic genius.
Andaz Apna Apna has a cult following, as it deserves. Amar and Prem aaila-ed and ooima-ed to glory and re-wrote the history of heroes as we knew it in the '90s. He was the original Mr Funny Bones. In this hilarious scene, he tries his best to trick the police inspector into sending the somewhat slow Prem behind bars.
3. If you've seen Andaz Apna Apna, you probably *heart* it. If you haven't, please get off the web because you're not allowed to use it anymore due to your lack of taste.
This epic fight scene with Amar, Prem, Crime Master Gogo and Teja-with-the-mark, is guaranteed to literally leave you rolling on the floor laughing.
4. If you think that in a film starring Kajol, Ajay Devgn and Juhi Chawla, it would be impossible for just one man to steal the show then you haven't seen Ishq yet and seriously need to prioritise better in life.
Here's the savvy Aamir just walking on a pole between two buildings to save his buddy Ajay who's so mesmerised by the sight of Kajol - he starts umm...walking.
5. Rang De Basanti isn't a funny film as such, but what the audience takes back from the first half of the movie is this - five friends and their beautiful chemistry. The joker of the pack - Aamir Khan - breathes life into every scene with his witticisms, his flirting and his infectious smile.
The dhaba scene is one of the many times when DJ gave us something to laugh about. His interaction with his loud, angry Punjabi mother and his flirting with the 'gori' is a rib-tickler.
6. There isn't a soul who hasn't seen and loved 3 Idiots for reasons that do not bear repeating. What's not to love about Rancho's zest for life, for education, and his love for his friends?
As an actor Aamir is a delight. As Rancho, he is legendary. Watch Rancho schooling the teacher and this, ladies and gentlemen, is how you deal with the learn-by-rote system.
7. There are so many funny scenes in 3 Idiots and it would not do to list just one. Rancho's class, where he teaches the Dean how to teach, is smoother than a fresh jar of Skippy (Sorry, Mark Ronson). *smothers face to stop laughter*
8. And of course, any list of Aamir's comic scenes without the one(s) where he gives Kareena Kapoor a 'demo' of just how much of an idiot her fiancé Suhaas really is would be blasphemy.
9. The climax of rom-com Hum Hain Rahi Pyar Ke is basically people throwing eggs at each other. No, not joking. In the history of Indian cinema, this was the first time 'egg-throwing' stopped a very important auction from taking place. Juhi Chawla, Aamir and his fun-loving troop of nephews and niece 'batter' guests to get them to leave.
Everybody left the 'party' looking very shiny.
10. Last but most definitely not the least, the time when Aamir was an alien who just could not fathom the many wonders on the 'gola' we call earth. PK broke box office records, like Aamir Khan films tend to do, and also through the many side-splitting misadventures of the alien, forced us to think about the 'bhery confujing' world we live in.
This is ekdum lul, as PK would say it.