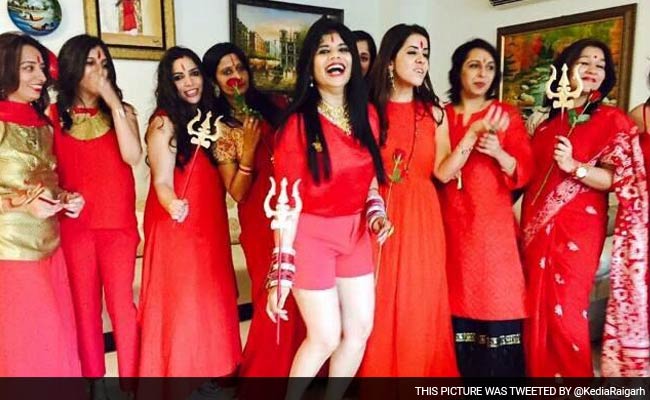 It's hard to tell if self-proclaimed godwoman Radhe Maa is being held up to ridicule or admiration by the crimson-clad women in this photo of, believe it or not, a kitty party.
Yes, it's apparently a thing now, or might become one.
For the uninitiated, the scarlet-robed "godwoman" has been making headlines for her alleged involvement in a dowry harassment case, photographs showing her in a mini skirt, and a case registered by a Phagwara resident who accuses Radhe Maa of obscenity and of hurting his religious sentiments. Radhe Maa has also divided celebrity opinion with Sonu Nigam and Subash Ghai speaking out in her defence and Rishi Kapoor strongly criticising her. Actress and former devotee Dolly Bindra has accused Radhe Maa of threatening her.
On social media, Radhe Maa has been the subject of both jokes and debates. However, this picture of the kitty party, tweeted by a Press Trust of India journalist, seems like the cherry on top of a huge red velvet cake.
The women in the photo seem to have a done a good job of copying Radhe Maa - they're all in red (obviously), with huge teekas on their forehead and bangles on their hands. Some are even carrying the trishul as an added accessory to their outfits.
Twitter, needless to say, had a field day with this picture.
Latest trend "Radhe maa theme kitty party" @devinderraiji@greatairi@Harish8hs@MRandhawa72@prabirchak@aapsurpic.twitter.com/X3OPWvQcDq

- Sukhvir Garcha (@sukhvirgarcha) August 25, 2015
@coolfunnytshirt RadheMaa themed kitty party. pic.twitter.com/QRmM0AYkjo

- Shrey Shah (@shreyshah5) August 25, 2015
@TheRahulMahajan@Atheist_Krishna radhe maa theme kitty partypic.twitter.com/1bua1hMjkK

- Yash Buchha (@YashBuchha) August 25, 2015
Radhe Maa inspires a kitty party with #RadheMaa theme. " Inspirational Maa " pic.twitter.com/mbOno9hLOM

- S.Vasudeva Murthy (@svmurthy) August 25, 2015
Radhe Maa themed kitty party,just saw this,i've neva laughed this much!the world needs 2 end!*heart Attack* #RadheMaapic.twitter.com/8ydJuNmDFj

- sahil salathia (@SalathiaSahil) August 25, 2015
What do you think of this? Share your thoughts in the comments section below.