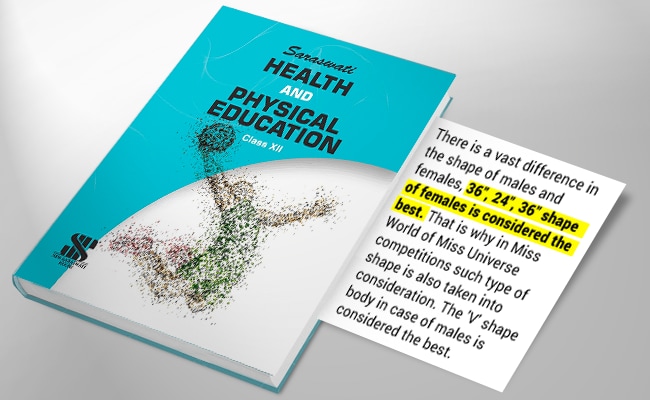 New Delhi:
Screenshots of a class 12 Physical Education textbook are being circulated widely on Twitter because of its bizarre lesson on health. The book in question is 'Health and Physical Education' by Dr VK Sharma, published by Delhi-based New Saraswati House. In the chapter 'Physiology and Sports', Dr Sharma defines the 'best' shape for women. "36-24-36 shape of females is considered the best. That is why in Miss World or Miss Universe competitions, such type of shape is also taken into consideration," he writes.

Men weren't spared from the unreal expectations either as it went on to say "The V shape body in case of males is considered the best".

Although not published by NCERT, the national body that decides curriculum, the textbook is available for students who have taken up Physical Education as a subject in Class 12. Several reports said that the book was part of CBSE but the board 'vehemently' denied it. In a statement to NDTV, the board said, "CBSE doesn't recommend any books by private publishers to the affiliated schools".

Images of the book were shared by many people on Twitter and it drew sharp reactions from all corners.

Physical Education Book, 12th standard. pic.twitter.com/wpruZPBuXC

— Anuj Khurana (@HaddHaiYaar) April 10, 2017
@aditimaharia@rishibagree Who writes such nonsense and what kind of kids are we rearing with their heads full of such stuff.

— Big-B (@ZeHarpreet) April 12, 2017
@Wheelerdeealer@rishibagree It can be true for Ms world or universe but seeding it in class XII student's mind would be disastrous. Girls would think their life is 1/2

— Archana Sharma (@Archnaaaa) April 12, 2017
@Wheelerdeealer@rishibagree Waste if they are not carrying this figure and guys would seek ms world's qualities in their gfs. For how many of our mothers, sisters 2/

— Archana Sharma (@Archnaaaa) April 12, 2017
@rishibagree Is he a Doctor or a quack. Request @PrakashJavdekar & @HRDMinistry to view this seriously

— Satyen Mehta (@SatyenMehta1) April 12, 2017
The 'best' figure for females,like really? According to this book PT Usha can't be a good athlete. Period! https://t.co/JoDXWqjakh

— Donna Radhakrishnan (@donna_rk9801) April 12, 2017
@Meetasengupta The language looks sexist in the first place.And why the 36-24-36 hangover in even textbooks? Something that makes me uncomfortable for sure

— Sumeet Gill (@TheSumeetGill) April 12, 2017
In the Hindi version of the book available
online
, the writer encouraged women to take up sports, not to inculcate fitness but to achieve the 'perfect' 36-24-36 body shape.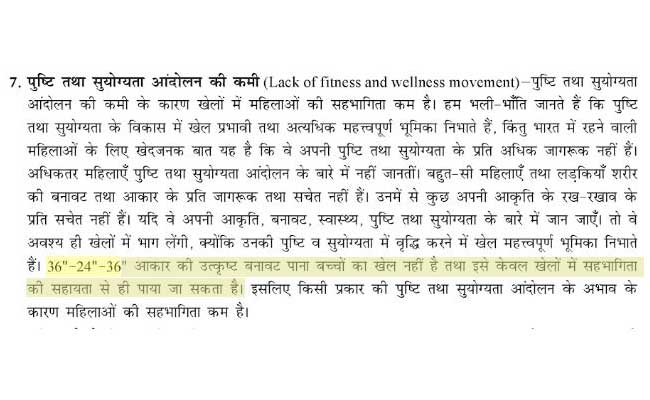 "Achieving the 36-24-36 shape is not child's play and can only be achieved with the help of sports," it reads.
The book has been heavily panned on social media. Many say it encourages body-shaming.
Click for
more trending stories