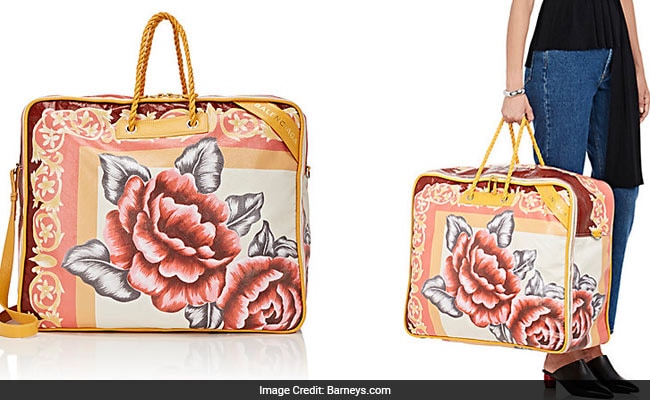 New Delhi:
With spring already here, you've probably carefully packed away your winter clothes and bedding. After reading this article, however, you may want to bring out your
kambals
- or the bags you store them in anyway. Why? Wait till you see what European luxury fashion house Balenciaga sent down the runway - a handbag that Twitterati think looks suspiciously like those humble plastic bags we all store our thick winter blankets in. Confused? Scroll down and judge for yourself.
The multi-coloured, floral-printed Balenciaga tote bags retail for between $2,000 to $3,500 depending on the size. Described as "blanket-printed," the Italian-made tote bags are made from leather and come with twisted rope handles.
The blanket bags, predictably, sent Twitter into meltdown mode
I swear every Asian household has a bag like this with a blanket in it and Balenciaga are selling it for £2k??? pic.twitter.com/X0SmFVaaLK

— ali (@syedazs) March 20, 2017
Guys I'm exhausted by fashion. Is this not the bag we keep blankets in? pic.twitter.com/xaAyIBFL20

— chilli (@soyysaucce) March 20, 2017
There were those wanted you to know the bags were from a special "
Kambal
from India" collection (they're not)
I have similar models so if anyone is interested pls dm me it's the special collection "Kambal from India" by Balenciaga for only 2000€ thx https://t.co/nHXUt4wU1m

— Gurdip (@Bitter_Sweet_G) March 20, 2017
Others took the opportunity to hone their entrepreneurial skills
@soyysaucce $20 for my bag pic.twitter.com/avNsuZG6oQ

— (@Juanito29434) March 21, 2017
People couldn't stop showing off their own "blanket bags"
@syedazs we have narita instead of https://t.co/AuHK4rxRy9.haha pic.twitter.com/jFMQ0qRadf

— 1202 (@nayefghazali) March 21, 2017
I must be balling then , didn't know these were Balenciaga pic.twitter.com/0OmY9tmpL1

— Siya Beyile (@SiyaBeyile) March 21, 2017
@syedazs Facts lmaoooo pic.twitter.com/BEjDG0XoMJ

— sam (@samdezzi) March 21, 2017
No one can have just one
@syedazs every Asian household will have at least two prepared just in case if we have many guest come & sleepover lol

— Nurzuliana Zaries (@Ririey_Zaries) March 22, 2017
@muminahali__@syedazs omg daddi Jaan has a whole cupboard back in the homeland

— maryam (@Maryam_ahmedxo) March 21, 2017
This woman had a fair point to make
@syedazs At least our ones actually come with a blanket. This just has blanket print...

— Sheezus (@ak_sheena) March 20, 2017
This person turned Internet sleuth
@soyysaucce Couldn't blv this was real. So I checked their site...the 'tote' was there for almost 4kUSD Ridiculousness!

— ACA (@ayayay7777777) March 21, 2017
This person thought it was time to #BoycottFashion
@soyysaucce@naheedmustafa Let's start the #boycottFashion movement

— Bruno Ballardini (@brunoballardini) March 21, 2017
But this woman proved she was still a slave for fashion
this is hilariously stupid. but i still kind of love fashion. https://t.co/w4uePuMjNx

— Denise Balkissoon (@balkissoon) March 21, 2017
To be fair, Balenciaga's artistic director Demna Gvasalia has been reported saying that this line of bags, part of their Spring/Summer 2017 collection, is his take on actual blanket bags.
So, would you invest in a designer "blanket bag?"