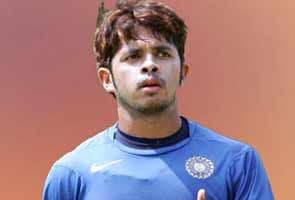 Mumbai:
The Mumbai Police today questioned a woman and a Bollywood casting director for their links to spot-fixing in the IPL.
The night Rajasthan Royals player S Sreesanth was arrested, he was in a car with two models who allegedly doubled up as escorts. One of the women was questioned today.
The casting director questioned by the police had allegedly sent Sreesanth pictures and numbers of 13 models and small time actresses. The pacer was allegedly in touch with all these women, the police claims.
Police sources also say that photographs and numbers were found on Sreesanth's iPad and laptop recovered from a hotel room.
In his defense though, the casting director has told the police that pictures of models sent to Sreesanth were for a clothing line.
On Saturday, Himanashu Roy, Mumbai's Joint Commissioner of Police, addressing a press conference had said, "The question of honey trap and other things comes upto the extent till it pertains to our investigation. Only after we get the feeds of the CCTV camera, we will get to know what was the movement, who was in the room, and how this is relevant to our case."
A bookie who spoke with NDTV on the condition of anonymity says, "The women are the conduits to the players. Sometime women accomplish things that crores of rupees cannot."
Revealing the steamier side of betting and fixing he adds, that very often honey traps are used to lure players indicating that even these tainted cricketers might have been led on by them.
He adds, "We benefit by using these women. We save money."
Even before the first season of IPL, in 2005, a high-profile bar dancer Tarannum was arrested by the Mumbai Police for alleged links to the underworld betting syndicate and some cricketers allegedly from Sri Lanka, but those charges that were never proved.
The IPL has struggled to keep the focus on the game, given its light, fun format and the high octane post-match parties where the worlds of cricket and glamour intersected.
In 2011, Chirayu Amin, the interim chairman of IPL, clamped down on late night parties that had become part of IPL's cult, insisting this simply wasn't cricket.