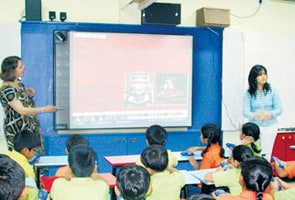 Mumbai:
With the sky-rocketing fees, you may just have to cough up more for your tots' pre-schooling than for getting them an MBA degree
Getting your kids a pre-primary education now should cost you just about the same, if not more, than what you would spend to enroll them in an MBA programme in one of the best colleges in the city.
Sample this. While Ecole Mondiale, one of Juhu's posh schools, charged Rs 4.55 lakh for a year last year, this year's fees run up to Rs 7 lakh, a 64 per cent hike.
Parents complain nothing has been done to curb the constant hikes in fees
An MBA costs you anywhere between Rs 5-7 lakh in a private college. And just for perspective, you could do a distance learning MBA course 14 times over for this amount.
With parents' bodies protests against unjustified fee hikes by pre-schools hitting a stonewall, some kindergartens have hiked their fees by as much as a hundred per cent.
In Podar nursery schools, while a year's fee was Rs 45,000 in 2009-10, it is 93,000 for this academic session.
Applying for GRE and GMAT, aptitude tests for entrance to colleges abroad, works out to be cheaper.
Parents have done their bit. The biggest parents' body in the city to protest against the unreasonable surges in fees, with all its demonstrations, has had no success in reining in the high fees that pre-schools charge for imparting a 'quality' education.
The All India Federation of Parents Teachers Association (AIFPTA) is now throwing its hands up at the futility of all its efforts and agitation against the cutthroat corporatisation of pre-schools that have been indiscriminately hiking fees over the past few years, without any justification to parents, the body claims.
The government is aware of the loot, say parents, but has not yet taken any action against private schools.
Jayant Jain, president, AIFPTA, raged against the government's inaction. "Private school managements have no fear of law. They are flouting all rules. And the government has failed to file a single FIR under the Prohibition of Capitation Fee Act, 1987. This is ridiculous," he said.
He further added that the applications against educational institutions that demand donation in any form have gone unnoticed for the last 14 years and no government authority has invoked the anti-capitation act.
A well-known film director, whose children attend Ecole Mondiale, said, "I paid Rs 5 lakh for my elder child's admission to nursery a few years back. Now, for my second child, I am paying Rs 7 lakh. There needs to be some government body to control fee."
A TV actor's wife whose child attends a pre-primary school in western suburbs, said, "The pre-primary school fees are high. I know people who are fed up of paying exorbitant amounts for pre-schooling and are thinking of transferring their children to more reasonable schools. Someone must handle the situation."
An official from Ecole Mondiale said, "We have great facilities for all our children. There is a swimming pool and no chlorine in it. We keep one teacher, a maid and an assistant teacher for seven to nine kids in a class. There is additional staff, imported toys and an air-conditioned play area. Where there is quality, one should not look at what amount they are paying."
Rajesh Bhatia, managing director of Tree House pre-school, said, "We have branches in areas like Colaba as well as Ulhasnagar and the fees varies because of the differing rents in the areas. We don't ask parents to book seats for their child at the time of birth, or when they are expecting. But I have heard of such things."
At another school, the 'acceptable' rates of fee hike were different. Swati Popat, president of Podar Education Network, said, "We have a permission to hike fees from 10 to 15 per cent every academic year. We are not forcing parents to come to our school. It is their choice. So why is there the talk of high fees? Quality, property rates and facilities account for the high fees."
Sections 4, 7A and 7AA of the Prohibition of Capitation Fee Act, 1987, make donations for admission in a school punishable by law. A police complaint can be filed against the management of such a school within 30 days of such a demand and the punishment could be up to two years in jail or fine or both.