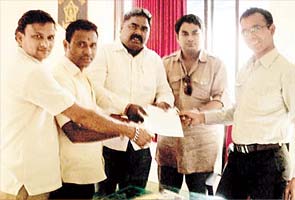 Mumbai:
The brouhaha over the arrest of two girls in Palghar and the ravaging of a hospital after a Facebook post disparaging the shutdown in the city following Bal Thackeray's death, is yet to subside.
But turning a deaf ear to all the criticism, Shiv Sena continues to toe the 'my way or the highway' line. This is borne out by the fact that on Wednesday Shiv Sainiks lodged a complaint against another Facebook user for an anti-Bal Thackeray remark, warning cops that if the case weren't resolved within eight days, the party would take matters into its own hands.
The Panvel (rural) police station has forwarded the matter to senior officials in the cyber crime department and sources say suitable steps would be taken only after a thorough inquiry. According to the accusers - Bhargav Samant, who is Raigad district president of Yuva Sena, and Sena activist Yogesh Indulkar - they were informed by a friend about the Facebook page of a person named Abhay Haridas Kamble, who had posted an 'offensive' comment against Bal Thackeray.
"This man was congratulating everyone on the death of our leader. He even used words that I am ashamed of repeating. Our first thought was to find this person on our own and teach him a lesson. However, our senior leaders told us to register a police complaint. So, while handing over the letter to the police we mentioned that they should take action against this man within eight days.
If they fail to do that, we shouldn't be blamed for whatever happens next, when we deal with him in our style," said Indulkar. Samant and Indulkar submitted the complaint letter at Panvel (rural) police station on Wednesday.
The police confirmed having received the complaint and said they have initiated an investigation. Inspector Krishna Kokane said, "We did get the complaint and dispatched it to our cyber crime officials. We don't want to do anything in haste and are probing the matter at the moment. We need to locate the PC or laptop from which the message was posted. We also need to ascertain that this person's ID and password were not used by someone else to post the remarks. Only after everything is substantiated and we have the necessary proper proof, action will be initiated."
Shiv Sena spokesperson Rahul Narvekar claimed that his party men are incensed with such messages being put on social networking sites, but they are trying their best to deal with such issues the legal way. "This is a clear case of defamation and we are asking the police to take action. We have faith in the law, but if cops don't crack the case soon Sainiks are sufficiently capable of handling such matters," said Narvekar.

Root of controversy
The status message was posted on Saturday at 5.15 pm, an hour after Thackeray was declared dead. Kamble has more than 1,800 friends on the social networking site, hails from Wardha, and this particular post had 44 likes, 11 shares and more than 250 comments till last evening.