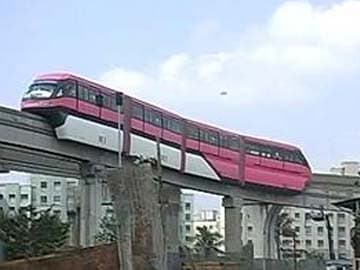 Mumbai:
The much-awaited Mumbai monorail will be inaugurated on Saturday and will be opened to the public on Sunday, as the Maharashtra government rushes to unveil goodies with an eye on general elections due by May and Assembly elections scheduled later this year.
In the first phase of operation, the monorail, the country's first, will run between Wadala and Chembur, an 8.26 km route. Six trains will be operated in the first phase and will run at a 15-minute interval initially. (
Watch: A journey on Mumbai's monorail - your first look
)
The four coaches on each train can carry 560 passengers, who will pay from between Rs 5 and Rs 11 on the Wadala-Chembur route.
There will be no monthly passes like the ones on Mumbai's lifeline, the local trains, but there will be a system of smart cards.
The monorail will be connected to other modes of transport like local trains. At Chembur, a skywalk connects the railway station with the monorail station. Feeder bus services are planned soon.
The monorail aims at cutting down travel time - a 40-minute commute will be reduced to 21 minutes, the MMRDA (Mumbai Metropolitan Region Development Authority) has said. It is also eco-friendly and less noisy than other modes of transport.
The second phase of the Rs 2,700 crore project, from Wadala to Jacob's Circle, is expected to be operational in a year from now.
Earlier this month, Mumbai's brand new airport terminal was inaugurated by Prime Minister Manmohan Singh. The swank T2 will be opened to passengers on February 15.