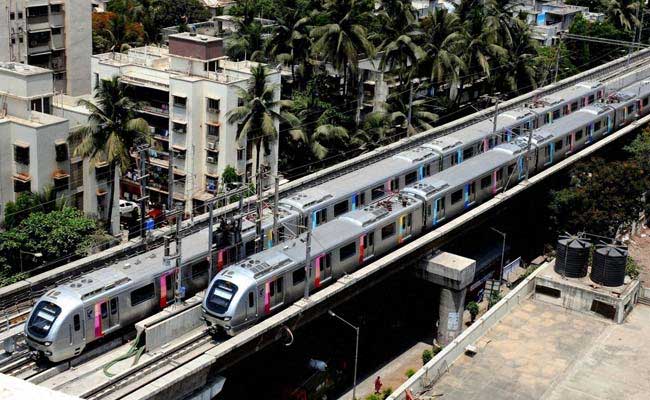 Mumbai:
Mumbai Metro One announced on Monday that it has achieved the 400 million passenger mark on its 1,423rd day, which is almost within four years of its operations.
The Reliance Infrastructure-promoted Mumbai Metro One, the state's first, has now emerged as the preferred choice of daily commute with people opting for it to travel to and from their homes and offices, said an official spokesperson.
While the first 100 million passenger mark was achieved in 398 days, the second 100 million mark came in 388 days, followed by the third 100 million peg in 337 days and the latest 400 million was achieved in 300 days.
"We have redefined MRTS commuter experience in the country. As a transport utility we have sought to delight our commuters with value-added services besides comfort and safety," the spokesperson said.
Besides, Mumbai Metro One offers attractive deals from its partner-merchants for the last mile connectivity from all stations en route to ensure retaining consumer trust and increasing the daily ridership, up by nearly 13 per cent over 2017.
For the latest achievement, the Mumbai Metro One witnessed growth in various routes, with the Andheri-Western Express Highway leading with a 48 per cent increase, followed by Andheri-Azad Nagar at 45 per cent.
Presently, it operates around 378-382 trips on weekdays. It undertook 125,894 trips in 2017-2018 with a punctuality performance of 99.9 per cent on what is the world's densest corridor.
Mumbai Metro One Private Ltd is a special purpose vehicle of a consortium of Reliance Infrastructure Ltd, Mumbai Metropolitan Region Development Authority and Veolia Transport SA, France. It operated on the Versova-Andheri-Ghatkopar corridor with 12 stations, reducing the travel time from 90 to 21 minutes between the two major points in the eastern and western suburbs.
(Except for the headline, this story has not been edited by NDTV staff and is published from a syndicated feed.)