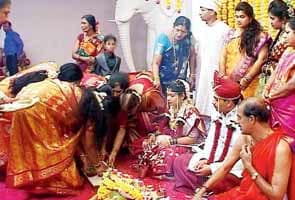 Mumbai:
While most tots spend their time at weddings lusting after more ice cream, this six-year-old would routinely suit up, gatecrash weddings with the poise of seasoned con artists, and leave with bags full of jewellery and cash. Needless to say, no one suspected an innocent child of stealing wedding valuables, and thus his dream run continued - till January 15, that is.
The Bhandup police have arrested two kids - the six-year-year-old boy and his sidekick, a 15-year-old boy - on charges of robbery. The duo of smooth operators would routinely rob wedding halls located in the stretch between Bhandup and Thane. Though they had stolen from many marriage halls in Bhandup, none of the owners lodged complaints, as in many cases the thefts were hushed up by relatives to prevent a fiasco at the wedding.
"The persons manning the stolen bags never complained, as they were scared of making their relatives the subjects of police investigation," said Assistant Police Inspector Deepak Surve from Bhandup police station, adding, "Many such thefts kept taking place in the halls located in Bhandup, Mulund and Thane. The six-year-old boy claims that his accomplice is his brother, but we don't think so."
The matter finally came to light when owners of Tip Top Plaza in Thane registered a case with the Wagle Estate police station after a theft occurred in the marriage hall in their premises. The relative of a constable posted in Bhandup police station was getting married in the ceremony, and learnt about the theft. With the help of CCTV cameras fixed in the hall, cops and owners saw that two wedding crashers had made away with the valuables.
Surve said, "We came to know about the incident on January 3 after a robbery occurred at a wedding ceremony attended by one of our constables. We were informed later of similar incidents having taken place in other marriage halls in Bhandup. We trapped the two accused and arrested them on January 15 from Felix Hall in Bhandup after consulting the Wagle Estate police." The boys had stolen gold worth Rs 2 lakh and Rs 70,000 in cash from the venue.
Police revealed that the minors appeared to have been trained by someone in the tricks of the trade. Since their arrest, they have determinedly hidden their identities from the cops. Asked where they stay, they mentioned Bhandup railway station. "Both the boys have been trained very well. They said they live in Bhandup railway station, and refused to tell us when they started their career as robbers," said Surve.
Asked where they obtained resources such as the suits that allowed them to enter the venues unnoticed, Surve said, "The six-year-old stated that his mother provided him with the suit. When we asked him where she was, he turned the tables on us, asking us to look for her instead." The case was transferred to Wagle Estate police station on Sunday.