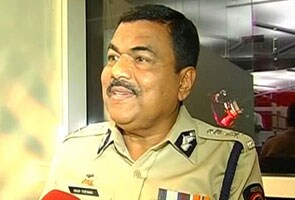 Mumbai:
The Maharashtra Home Department has sent a proposal to Chief Minister Prithviraj Chavan recommending the transfer of Mumbai Police Commissioner Arup Patnaik for his alleged mishandling of the recent violence in Azad Maidan in the city, sources have told NDTV.
Mr Patnaik has come in for a lot of criticism over the rioting on August 11 that led to the death of two people while 55 others, including 45 policemen, were injured after a protest against the ethnic violence in Assam spun out of control. Maharashtra Navnirman Sena (MNS) chief Raj Thackeray had, in fact, called for Mr Patnaik's resignation on Tuesday. Slamming the Mumbai Police chief and Home Minister RR Patil, Mr Thackeray had said, "If they have an ounce of shame, they should immediately quit."
Mr Patnaik, though, ruled out any scope of his resignation. Speaking to NDTV, he said, "I am a government employee. Ultimately whatever the government decides...the government decides whatever post to give me, I'll be fine with it."
The intense scrutiny around Mr Patnaik comes in the wake of a huge furore around the rioting at Azad Maidan that even reverberated in Parliament. There were reports of the Mumbai Police having been warned early on about a massive turnout, running into thousands, at the rally. In fact, a day before the demonstration, the Mumbai police had been warned that Friday prayers and gatherings were being used to urge people to attend the Azad Maidan session. This should have alerted the police to gear up for a massive crowd - the cops were expecting 3000-4000 people, but 10,000 eventually showed up. There were more warning signs of impending trouble - the intelligence wing of the Mumbai police had warned in early August that as the violence in Assam spiralled, provocative messages were being sent out in Mumbai, some via SMS.
Mr Patnaik, though, told NDTV that he handled the Mumbai riots in the best way possible. "I believe I have done it right." On the issue of women cops being molested by the rampaging mob in the violence, Mr Patnaik said that reports were exaggerated. "There are one or two stray cases which are being investigated by SIT...but horror stories have been put out. They are my children...I am the chief, I should be more worried about them...that is how I lead the force," the Mumbai Police chief told NDTV.
He also assured that a balanced investigation was being carried out on the basis of CCTV footage of the incident.
Video footage of the violence at Azad Maidan shows how an armed mob torched vehicles belonging to the media and the police and also attacked policemen. Police believe that the miscreants had infiltrated the crowd of protesters that had gathered at the grounds to condemn the violence between Bodos and Bengali-speaking settlers in Assam over the last one month. The clashes have left nearly four lakh people displaced and over 70 dead in the state.